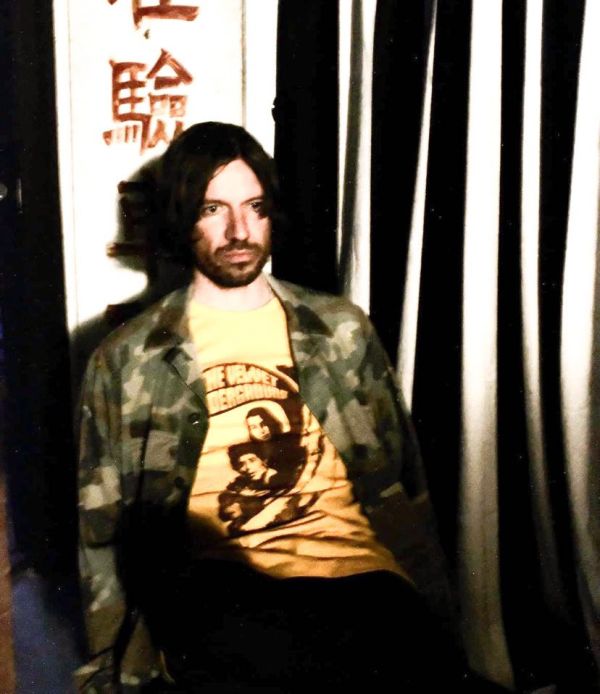 21 September 2021
Revolution Above Disorder – Photo Credit: Analissa Longoria
No stranger to shoegaze, electro pop, postpunk and synthwave, a new Dublin-Vancouver project Revolution Above Disorder enters the music scene and, no doubt, will become the life of the party for folks who thrive on sonic fixings in these very genres. The debut single is called 'Illuminate' – it's a whopping zinger so keep your belt on.
Revolution Above Disorder is the new moniker of Dubliner Stephen Nicholas White a.k.a. Stevie Moonboots, who you may already know from his involvement in The Orange Kyte, House of Dolls, The Subterranean Satellite Band and Magic Shoppe. But none of these bands are crafting music that fits the bill for this new project.
Currently based in Vancouver. Revolution Above Disorder's music is electronic-tinged post-punk with raw, honest lyrics driving the songs.
The 'Illuminate' single was produced, mixed and mastered at Jacknife Sound by Jason Corbett of ACTORS. The track features ACTORS' Shannon Hemmet*t and *Kendall Wooding on backing vocals, and bandmate Adam Fink on drums, as well as Josiah Webb of Magic Shoppe on guitar.
Track 2 of 3 from the upcoming release 'lluminate (Delta Omega Remix)' was remixed / produced by Delta Omega a.k.a. Conor Paxton (House of Dolls, Buffalo Sunn, The Brothers Movement) in Dublin, Ireland
Experimental in its sound, but with a strong emphasis on songs and lyrics, 'Illuminate' is the original version previewing this 3-track release. This is guitar-based rock augmented by synths, drum machines and heavily treated instrumentation with a spine of pure melody.
Where The Orange Kyte was an exercise in saying yes to everything and seeing what happens, allowing the sound and personnel to morph, twist, evolve and devolve, Revolution Above Disorder is driven by a well-defined over-arching postpunk-psychedelic aesthetic, as well as a more polished and meticulously crafted approach in the studio.
"Illuminate' is the song that kick started Revolution Above Disorder. When the COVID-19 pandemic hit, I'd just come off a European tour with Magic Shoppe and I found myself having to cancel scheduled plans with The Orange Kyte. In my downtime I began to reevaluate where I was headed musically and I realized I'd become dissatisfied with what I'd been doing. As I searched through old demos from the past, some going back over a decade, I was excited to hear songs with real potential that either I'd abandoned or just plain forgotten about. I grew interested in the idea of this modern day version of myself collaborating with my chaotic and directionless former self. I wanted to finish what I'd started many years prior. ''Illuminate' was the first one I needed to record," says Stephen Nicholas White.
"This was originally conceived in 2013, albeit with different lyrics. I changed the lyrics from a song of misery and self-pity to an optimistic song of enlightenment and transcendence. It's a song about getting your shit together and overcoming your own bullshit. A call to arms of sorts as a reminder to dig deep when distraction and resistance come knocking. The first line is 'Revolution above disorder, divinity over all else…', it seemed appropriate to use Revolution Above Disorder as the name for the entire project after that."
The video was directed and edited by Eliot Galán of Galán Films, a key creative (cinematographer, director, videographer, editor and colourist) in Vancouver's film & tv industry, starring Analissa Longoria and Mat Durie.
'Illuminate' is available as an instant gratification track via Bandcamp for those ordering the full 3-track single, which will be released digitally on October 22 via Bandcamp. You can also pre-save this on Spotify HERE
CREDITS
Produced, mixed and mastered by Jason Corbett at Jacknife Sound
Track 2 remixed/produced by Delta Omega in Dublin, Ireland
Cover artwork and graphics by Stephen Nicholas White
Written and performed by Stephen Nicholas White
Josiah Webb – guitar
Shannon Hemmett & Kendall Wooding – backing vocals.
Adam Fink – drums
Video produced by Stephen Nicholas White
Directed and edited by Eliot Galán
Wardrobe – Analissa Longoria
Camera Op – Darryl Ahye
Key Grip – Ray Corkum
Female lead – Analissa Longoria
Male lead – Mat Durie
TRACK LIST
1. lluminate
2. lluminate (Delta Omega Remix)
3. lluminate (Acoustic)
Revolution Above Disorder
Facebook
Bandcamp
Instagram
Twitter
SoundCloud
YouTube