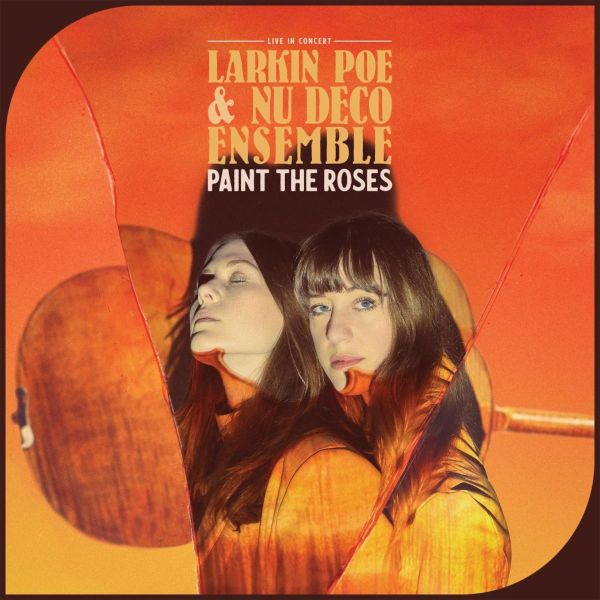 20 September 2021
Larkin Poe & Nu Deco Ensemble – Paint The Roses
Grammy-nominated roots-rock sister duo Larkin Poe, who are descendants of Edgar Allan Poe, have collaborated with the pioneering hybrid chamber orchestra Nu Deco Ensemble on a new live album.
The collaborative LP, Paint The Roses: Live In Concert, was released this past Friday (September 17th). It reinterprets Larkin Poe's music, including their 2020 release Self Made Man, through an orchestral lens.
Paint the Roses documents a collaborative, streamed concert by the two artistic groups in December, 2020 at Miami's North Beach Bandshell. The performance was part of Nu Deco's 2020-21 virtual and socially-distanced concert season, which featured the ensemble's genre-bending orchestral music and its powerful first collaboration with Larkin Poe.
Larkin Poe — a Nashville-based sister-duo comprising multi-instrumentalists Rebecca and Megan Lovell — had recorded their fifth album, Self Made Man (which topped the Billboard Blues Album chart and UK's Independent and Americana Albums charts), in the summer of 2020, but could not take the music on the road due to COVID-19 restrictions.
Nu Deco Ensemble's collaborative concert provided the duo their first chance to play the new record's songs for a live audience. The tracks on Self Made Man (and now on Paint the Roses) draw on wide influences but are rooted in the creative heritage of Larkin Poe's beloved American South and Southern Gothic themes.
Larkin Poe have also released their live performance of fan favorite "Mad as a Hatter" for the first time officially. The song is a moving tribute to the women's grandfather who struggled with mental illness.
Rebecca Lovell reveals, "I wrote "Mad As A Hatter" in memory of our late grandfather. He battled with mental illness in his lifetime and spent the majority of his years undiagnosed. The song has become a touchstone in the Larkin Poe community and sparked countless conversations around the world between people who find resonance in the lyrics. At long last, the stars have aligned through our collaboration with Nu Deco Ensemble, and we are so excited to finally be able to share a deeply meaningful performance of one of our nearest and dearest songs."
Purchase/Stream Paint The Roses HERE