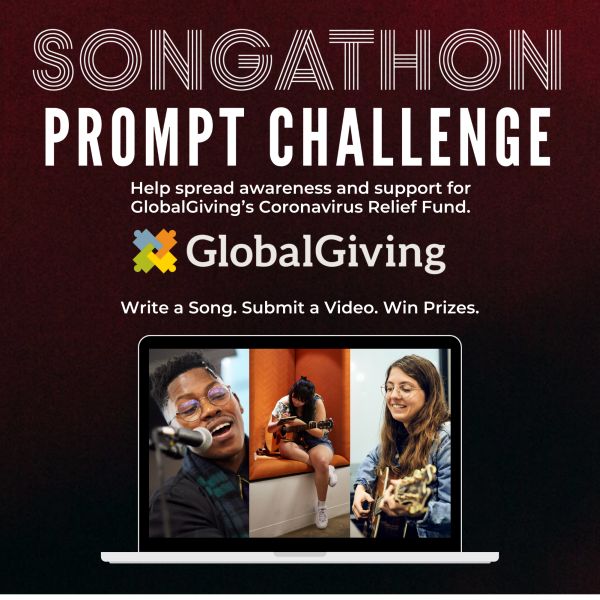 20 April 2020
Songathon Prompt Challenge – Photo courtesy of Global Giving
During these desperate and unprecedented times, many have turned to music as a source of comfort. Artists from around the globe have been trying to turn the fear and loneliness of this time into something positive. And now Songathon is offering those songwriters the chance to contribute to the relief cause!
NYC-based organization Songathon exists to connect songwriters at any level with tools and resources that will help them to hone their craft. In 2018, they launched the first in-person, 24-hour song writing challenge. Using all that they learned from these sessions, Songathon is now ready to use their tools to help the world.
Even amidst the catastrophic COVID-19 crisis, Songathon is keeping their mission of empowering songwriters alive.
Known for their 24-hour songwriting challenges, Songathon is now expanding their mission to inspire songwriters on a global scale. "We're incredibly excited about bringing together the global songwriting community for such an urgent cause. Music has the power to heal, bring us together, and spread a message," say Songathon founders Noah Hyams and Amber Ward.
The Songathon Prompt Challenge asks songwriters from around the globe to consider how isolation has affected them and their communities.
Using the word "distance" as a cue, the competition will benefit GlobalGiving's Coronavirus Relief Fund.
The Coronavirus Relief Fund is aimed at providing medical staff to communities in need, lifesaving medical equipment to hospitals, and delivering essential items to struggling households.
If you are a songwriter and looking for a chance to be part of a global relief movement, look no further than Songathon's Prompt Challenge.
The deadline to enter is May 1st. For more information on the contest, visit the official site.