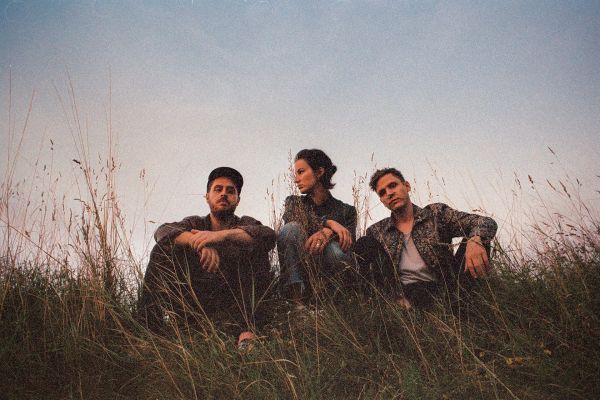 27 April 2019
Vsitor – Photo Credit: Dario Kneubühler
Vsitor are a Swiss avant-pop trio based in Berlin. Their music is an amalgamation elements of slowcore, jazz, experimental electronica, noise rock, and No Wave. The group is comprised of Lea Maria Fries (vocals, synth, bass), David Koch (guitar, vocals, synths, bass), and Valentin Liechti (drums, beats, bass, vocals).
Keep On Running is the title of Vsitor's debut album. It's an 11-song meditation on the idea of movement and change, especially in regards to the complex emotion-based constellations that we form with other individuals. It covers the physical, mental and emotive – abrupt and disruptive, but also that which is subtle to the point of being barely perceptible. Needless to say, the record is a very mindful exploration of the human condition.
All of the material found on the LP was compiled over a period of two years. The writing and recording process could be described as non-linear and was very much akin to the band members' current modes of communication, with tons of files being shared between them and simultaneous/parallel sessions running on the same songs, in different studios.
The actual compositions were mostly born out of single sounds or textures, rather than from clearly defined melody lines or chord progressions. Once a fascinating sound artifact was discovered or isolated, it would then be used as a springboard for a composition. The production duties were mostly handled by David Koch and Valentin Liechti. Lea Maria Fries stepped in once the ideas became more concrete, at which point, she would match words and storylines to the emotional undercurrents running through the latest versions of the songs, as if the objective was to outline movie scenes to a rough draft of a soundtrack.
After the vocals were ready, the band would reconvene at the studio to flesh out the arrangements and to record, but the product of this session would eventually also go through this entire process. This explains the puzzle-like, unorthodox arrangements which are present throughout this long-player. In the end, the band recorded around 40 sketches out of which eleven songs made the final cut.
The sound on Keep On Running is extremely textured, warm, brash and very physical, as if all the analog gear which was used by the band – and there was plenty of it – had somehow managed to transmute mere air vibrations into something grainy and almost tactile. In general, these songs have a dusky quality about them – washed over with reverbs and countless guitar pedal effects. The vocals swim in this amorphous space, breathy, fragile, direct and intimate – and gorgeous – spilling out of the speakers like a cascade of melodies wrapped in gossamer noise.
Keep On Running is out now on indie label Red Brick Chapel.
The members of Vsitor kindly took some time to write up their thoughts on a specific track. Take a listen to the tunes and their backstory/meaning below:
"Do"
"Do"
(Lea)
""Do" is about the struggle with we can have with ourselves or also with other people. It's a hymn to make you stand up for yourself and the things you do…"
"I think that it also reflects the struggle we have being musicians quite well. Dealing with your own expectations, with projected or real expectations from the outside, like friends, family, lovers, labels, audience, etc. Because we somehow always followed our gut feelings to create for Vsitor, but this album is finally really the moment: now we know who we are as a band, what we want and we are committed to following this blueprint. We do what we love without caring anymore about what other people think. To accept this and following through with it made us much more free and relaxed when it comes to our music. I think you can hear this across the whole album. No more questions of how we could be seen or what people expect of us."
"Keep On Running"
"Keep On Running"
(Valentin)
""Keep On Running" is a miracle. We went through so many phases with this song that at some point, it was not even supposed to be on the record anymore. The song started with this iconic guitar riff that we thought could compete with "Start Me Up" from the Rolling Stones. We were sure we had a banger. I produced it with a four-to-the floor beat set throughout the whole song, and this shiny guitar riff. I was so proud to be the drummer who wrote an iconic guitar riff. If you listen to the song now, you can barely hear it. Life sucks."
"Once we entered the studio and tracked Lea's final vocals, nothing was working anymore. The beat didn't feel right with the vocal line and the whole thing started to fall apart. I remember working two entire days with Manu Egger on the chorus's kick sound. I moved every single drum sound so many times that I could have re-programmed the whole album in the same amount of time. Lea also had to re-record the vocals many times to try to make something that would be strong enough."
"Thanks to Manu, our engineer, and David's cool synth-wurli line that popped up in the chorus, we managed to create this dreamy, Arca-esque song! I'm proud of the final result, but we learned a lot from this experience, it's so hard to let go of a song and decide when it's finished. I couldn't really do this with "Keep On Running". I even finished the intro with Lea's spoken voice the night before sending it to mastering."
"Feel You Near"
"Feel You "Near"
(David)
"The very first note you hear is coming from our beloved white upright piano. It's standing in our rehearsal room, which is located in a former ice factory on an island near Berlin. This piano is broken and almost impossible to tune, but it has some spirit: it's always inspiring to play. When we processed the recording of these first notes through our vintage gear, there was a broken cable, which lead to a total phase cancellation. That's the sound you hear now on the record! Last summer I bought a tuning wrench to at least get the following chords a bit in tune. Then this orchestral mood appears. It's actually nothing but a flute, a bass clarinet and a saxophone. My dad played the flute and a friend the other two instruments. We recorded in an old cloister. The recording is played back at half speed and thus sounds one octave deeper. This creates a warm, orchestral sound with the flute tone vibrating slowly. Actually, the bass drum you hear is also coming from a piano sound we recorded on the same day. Valentin was messing around with a deep piano note, processed it extremely and it turned out to be a fluffy bass drum. We see the whole track as an intro, which sets the mood for the album."
Website
Facebook
Instagram
YouTube
Bandcamp