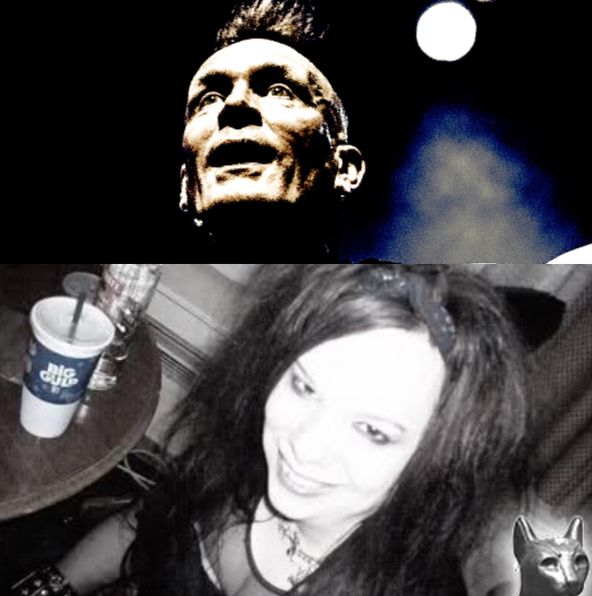 3 December 2019
John Robb of The Membranes – top; Kitty Lectro – bottom
Always at the forefront of innovative music and genre-blending, British post-punk pioneers The Membranes present their new 'Nocturnal' EP, a three-track collaborative effort that features two remixes by darkwave-goth rock luminary DJ Kitty Lectro.
For the 'Kitty Lectro Remix', Kitty Lectro adds an addictive dance floor spin to this already-dark delight, while her 'Meow Meow Money Mix' takes a harsher Meat Beat Manifesto-esque direction.
Kitty's remix credits include Kommunity FK, Andi Sex Gang, The March Violets, Still Patient, Lestat, ANKST, Strap On Halo, Angels Of Liberty, Das Projekt and Dilemma, among others. Most recently, she collaborated with Beauty In Chaos (Michael Ciravolo) on several tracks, including the single 'Darknesses', also involving Wayne Hussey (The Mission) and Simon Gallup (The Cure).
The song 'Nocturnal' was originally on The Membranes' new album 'What Nature Gives… Nature Takes Away', released this summer and acclaimed as one of the best albums of 2019. The band's new opus is the brainchild of frontman, music journalist, author and media pundit John Robb, who has led Membranes in one form or another for close to 40 years. This set of psychedelic post-punk soundscapes comprises their eighth studio album and the second since reforming in 2010.
"Nocturnal is our death disco dance with Pan, or our dark Dionysian dislocation of the senses that has been remixed to shadowy dance floor brilliance by Kitty Lectro," says frontman John Robb.
"It is from our new double album "What Nature Gives…Nature Takes Away" and examines the beauty and violence of nature, in which we took our bass-driven post-punk and added choirs to it to create an epic brooding soundtrack to the theme of nature itself and its desperate struggle to survive the human race's hell bent determination to destroy it."
Formed in 1978 in Blackpool, The Membranes played classic bass-driven northern post punk and were part of the same world as bands like The Fall, Sisters Of Mercy, Echo and The Bunnymen and Cabaret Voltaire, all inspired by 1977 to launch their own idiosyncratic journeys. The band released a remarkable series of records that combined their small town frustration with a love of heavy bass and distortion. This ultimately became a prime influence and the precursors to such American noiseniks as Steve Albini, Swans and Sonic Youth.
John Peel and music press favorites, a continual frenzy of releases, public acclaim and touring worldwide with national TV appearances, the band went on hiatus in 1990 until finally reforming in 2010 when former support band My Bloody Valentine convinced them to return to the stage for the ATP festival.
(Definitive Gaze* is a boutique record label and marketing consultancy formed in 2014 by former Rough Trade/Astralwerks/PIAS alumnus Nick Clift to re-issue the works of '80s post-punk artists Ski Patrol, Folk Devils, Ian Lowery, as well as newer output from legacy artists of this era.
The 'Nocturnal' EP is available via Bandcamp and digitally everywhere, including iTunes and Spotify. 'What Nature Gives … Nature Takes Away' is also out on vinyl and CD. The band is currently on tour with Mark Lanegan, for which tickets can be found HERE.
TRACKLIST
1. Nocturnal (KITTY LECTRO Remix)
2. Nocturnal (KITTY LECTRO Meow Meow Money Mix)
3. Nocturnal (Album Version)
TOUR DATES (*** denotes headline dates)
Nov 28 Bologna, IT – Freakout Club***
Dec 01 Lausanne, CH – Les Docks
Dec 02 Zurich, CH – Bogen F
Dec 03 Koln, DE – Essigfabrik
Dec 04 Amsterdam, NL – OCCII***
Dec 05 Turnhout, BE – De Warande
Dec 06 Hasselt, BE – CC Hasselt
Dec 07 Roeselare, BE – De Spil
Dec 08 Paris, FR – Le Trianon
Dec 10 London, UK – Roundhouse
Dec 11 Bristol, UK – SWX
Dec 13 Sheffield, UK – Leadmill
Dec 14 Edinburgh, UK – Liquid Rooms
Dec 15 Manchester, UK – Academy 2
Dec. 17 Dublin, IE – Button Factory
Dec 18 Belfast, N. Ireland – Empire
Keep up with The Membranes
Website
Facebook
Twitter
Instagram
Bandcamp
Online shop
Spotify
iTunes
Keep up with Kitty Lectro
Website
Facebook
Twitter
Instagram
YouTube
SoundCloud
MixCloud
Keep up with Definitive Gaze
Facebook
Twitter
Instagram
Spotify