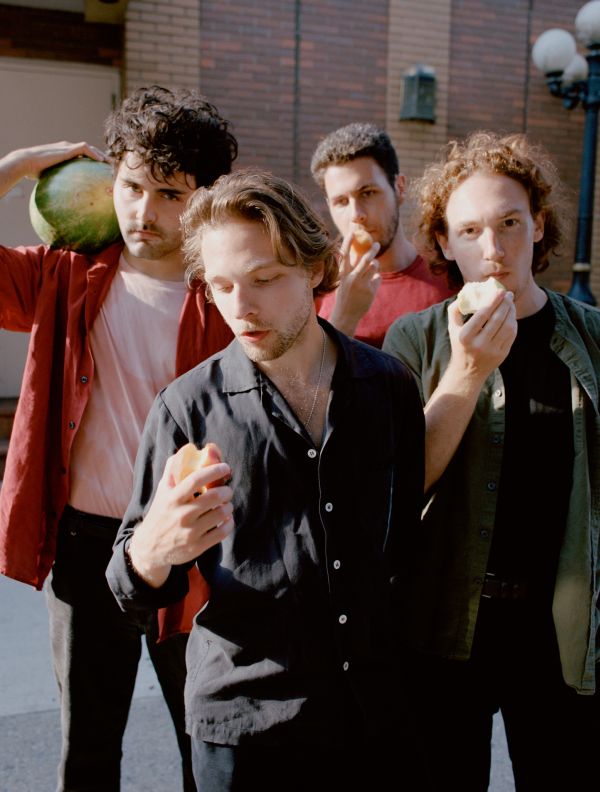 7 February 2020
Loose Buttons – Photo Credit: Josh Aronson
"I think I'm trying to find something better."
The plainspoken line is halfway between a revelation and a mission statement on New York-based indie rock band Loose Buttons' debut album, Something Better, which arrives today via Moon Crawl Records.
Raved about my Consequence of Sound, Vice's Noisey, and Billboard, Something Better shows the four-piece coming into their own on their own terms. With production by Gus Oberg (The Strokes, The Virgins, Public Access TV) and a sound that floats effortlessly between garage and indie rock and New Wave and pop, the LP is a testament to fending off the lingering pains of looking back and the looming anxieties of looking forward to build something that's truly worth living for.
Something Better follows up Loose Buttons' 2017 EP Sundays, a self-released four-song collection that helped the band earn critical praise and play larger venues than ever, including a sold-out show at New York's 350-capacity Rough Trade.
While Loose Buttons' current line-up didn't form very long before Sundays, each of the four members grew up deeply entrenched in the New York music community – playing in bands and putting on shows from their early teenage years. In fact, lead singer Eric Nizgretsky and guitarist Zachary Kantor are lifelong friends who wrote their first songs together at 11 years old.
Nizgretsky's randomly-assigned college roommate Manny Silverstein (bass) and their former 'battle of the bands' rival Adam Holtzberg (drums) rounded out the group along the way. On Something Better, they're joined by fellow New York musicians Gus Oberg and Ava Trilling of Forth Wanderers.
Above all else, Something Better centers on a sense of community and the healing power it brings; something that is sorely needed in these divided times. It's the ultimate appreciation of the New York scene that Loose Buttons was fostered in.
Eric Nizgretsky kindly took the time to delve into the insightful meaning behind each track on the new album:
"Something Better"
"To me it's really about the ultimate goal of creating a life I can be proud of while dealing with those ever-present and looming doubts. Over the years I've taken a look back at my parents' failed marriage, among other things, and I guess my fear is that the relationships I treasure the most will inevitably end in similar ways. It's those uncertainties that've served as motivation to channel my fears into something positive, or rather, "something better."
"Home Movies"
"On this one I keep on dissecting the relationship I have with my parents and how the aftermath of their divorce continues to have a lingering effect on me. As much as I hope that I can undo or "command z" everything that has happened between them, I can't. A lad like me could just daydream that one day I have one of those bumper stickers on the back of my sedan that displays one happy stick figure family. A true signifier of that elusive "happy family."
"Strangers In A Nightclub"
"When I need to step away from myself for a moment, I like to get lost in people-watching these absolutely one-of-a-kind, 'only in New York' characters who seem to frequent the same spots night after night. I really have found that it's the best tool I've come across for escapism. Ultimately, I think this song is a bit of a convoluted 'thank you' to those strangers for letting me crash their party."
"Fell Into A Hole"
"It's easy to get caught up in the monotony of routine — working all day, checking social media, seeing friends start to settle down. In that monotony I start to realize that there's a good chance my plans will not come to be in the way I've always hoped they would. This robotic reality starts to creep in. But over time I've started to find comfort in knowing I'm not alone — and that has really been the key to any sort of sanity. That's also why it's so important to me that we got Ava Trilling, one of my best friends, to be a part of this song."
"You Always Look So Cool"
"This is the only kind of love song we have on the record. It's based around the idea of trying to impress someone who in my eyes is way "cooler" than I am. I can't help but fear that I won't be able to keep up and, in the long run, will get dragged down by my own insecurities. So, as you can see, a very cheery love song."
"Hell Is A Lonely Penthouse View"
"I am so lucky that I get to live my life surrounded by the mind-blowingly talented people that I call my "crew." They honestly make my life worth living, and I never want to take that for granted. At the end of the day, I'm also scared shitless of what happens if that disappears. Musically, I think the direct nature of the song, coupled with the fact that a ton of the original demo takes made it into the final recording, really help create this raw energy that feels a bit like bottling our live show in the most organic way possible. The final line of the song – "If I lose you, my crew, then nothing will get me high" – I think sums it all up pretty nicely."
"6:17"
"This doesn't really sound like any other Loose Buttons song – it kind of bucks a more traditional format for all these weird jams and instrumental sections and bits of conversation between myself and Ava Trilling in the outro. We worked a lot with our producer Gus Oberg on expanding way outside of our comfort zone with this one, and I think the final result is something that's gonna be a live staple of ours for a long time. In terms of lyrics, the song is about getting myself out of a messy situation that I created. Begging, pleading and then waiting for the chaos to subside with someone that I love can be very nerve wracking. We wanted that outro to musically re-enact the tension that I'm singing about."
"I Don't Really Know"
"Trying to succeed in an industry that hinges so much on what other people think of you can definitely drive you insane if you let it. So it seemed like it could do us some good to laugh at the situation rather than let it keep us up at night (it still does that too, don't worry). No matter what happens, the four of us love doing this more than anything, so it's important to me that we never let that love and excitement get buried under those superficial elements."
Instagram
Bandcamp
Twitter
Facebook
Soundcloud
Spotify
Apple Music
Band Store