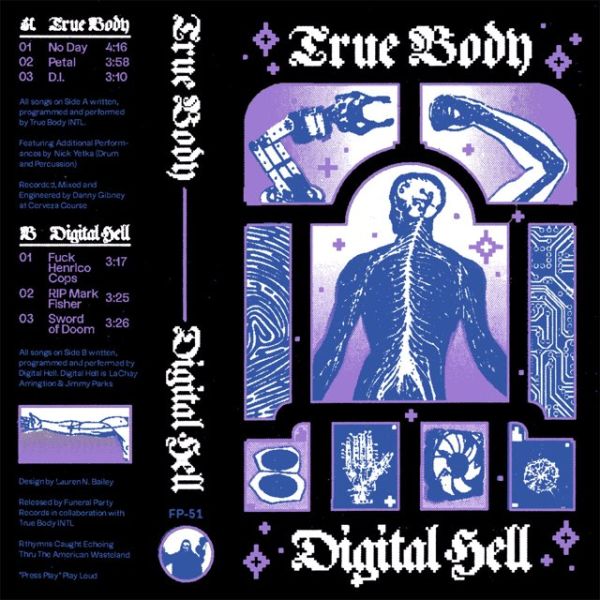 4 June 2021
True Body & Digital Hell split – artwork
The new split cassette from Virginia's True Body and Digital Hell makes for a thrilling pairing. Though geographically related, the bands couldn't be further apart in sound.
Side A, which features True Body, is a heavy dose of industrial Goth-pop, with opener "No Day" building tension over a thin guitar and swirling atmospherics before exploding into a tight 16-beat. "Petal" dials back the intensity, a romantic, vocal-focused song that makes great use of open space, synths plucking in a call and response with the guitars. While clearly in the same vein as other '80s revivalists like Choir Boy and Soft Kill, the ambitious, glossy production invokes Tears For Fears and other stadium sized groups.
True Body's final contribution is a 3-minute ambient spoken word composition that recalls early work by Yves Tumor, and works as a perfect transition into the split's second half. It's a surreal transmission that feels like a lost scene from 2001: A Space Odyssey, a broken down Hal mumbling over the hum of the ship's crackling electronics.
It's a brief moment of respite before the Digital Hell side, where each song is a dense mix of throbbing bass lines, searing feedback, and muffled drum samples. The duo describes their sound as "dark web trap" and "music for the end times", and they're not wrong. The dystopian, disaffected sound on these three songs could soundtrack a post-apocalyptic 3am rave.
"Fuck Henrico Cops" sounds like it's breaking, the washes of noise drowning out the distorted vocals, it's dancefloor ready bass line obscured, but snaking into view. "RIP Mark Fisher" follows a similar template, the hooky synth bass providing the only melodic component while everything around it crumbles into unrecognizable sounds. The closing sample serves as a sort of mission statement – "The exciting thing in life, to me, is to get into a life threatening situation." There's a sly grin to the opening lines on "Sword of Doom", "I can't hear a thing you just said," everyone's ears ringing and endorphins rushing as Digital Hell close out their side of the split with a buzzsaw synth tone.
The release comes courtesy of Funeral Party Records, and is available at their WEBSITE