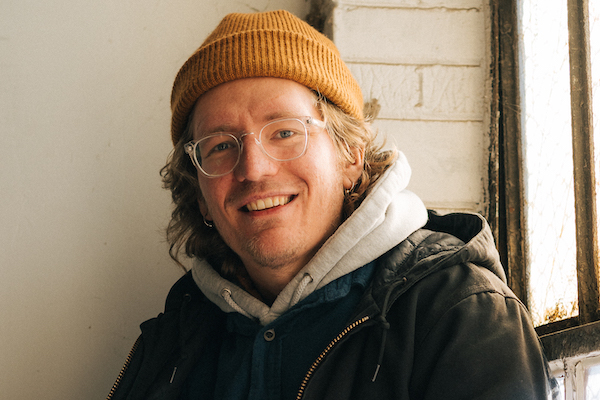 21 March 2022
Ryan "Hoagie Wesley" Ensley, a.k.a. Sonny Falls (photo: Sam Porter)
Chicago's Sonny Falls plays rock music but isn't a typical "rock band." The project is informed by years of communal living and a disdain for the traditional four-person band that might have to call it quits when one single member changes plans.
Sonny Falls might come from a collective effort but is ultimately Ryan "Hoagie Wesley" Ensley's songwriting outlet. On his last album, which he released in 2020, All That Has Come Apart/ Once Did Not Exist (Plastic Miracles), Ensley could go from power pop to noise to acoustic fingerpicking, and it created a framework where Sonny Falls was capable of making any kind of music, so long as Ensley was writing the words and singing.
But after releasing "Wringing Out My Brain" last month to announce his upcoming album called Stoned, Beethoven Blasting, Ensley set the tone for a more raucous third album.
The second and last single off the album Audience of Thoughts is no exception, and the Big Takeover is pleased to host the premiere of the single today:
Ensley spoke exclusively with the Big Takeover about his new release.
"Lyrically, Audience of Thoughts was really fun to write," he said. "I've spent more time alone in the last couple of years than probably in my entire life. In that time, I've attempted to maintain a meditation practice: if you've ever meditated before, or even just when you try and clear your mind for a moment, you will find that thoughts have a way of appearing from the blackness of consciousness."
He continued: "I used this observation as a foundation to personify thoughts as performers and an audience in a dark nightclub that I'm the manager of (it is my brain, after all). In this song, the headliners of the night are two fundamental human experiences, Terror & Faith. Musically, I aimed for the song to shred."
This third Sonny Falls album is coming out April 20 on Minnesota-based label Forged Artifacts, and you can find preorders and cassette tapes here.
For more on Sonny Falls, go here:
Bandcamp
Spotify
Instagram
Facebook