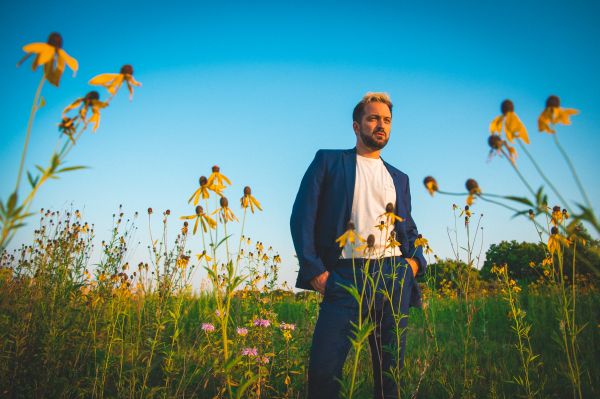 1 June 2022
Cole DeGenova – Photo Credit: Cory DeWald
Sometimes it feels like the pandemic has stolen our youth — or at least a chunk of it. Chicago-based keyboardist and songwriter Cole DeGenova captures the feeling of fleeting youth on the song "Before I'm Gone," despite writing it years ago.
Even the chords he and his band plays between keys and guitar feels evasive, as he creates a circular-feeling melody that bounces between keys. He wrote it originally for his electrified soul album, Really Human, released in 2020 off of Ropeadope Records.
But he didn't include "Before I'm Gone" on the album, as it didn't completely fit with the aesthetic and vision of a spaced-out electro-soul album that featured modern soul legend Georgia Anne Muldrow as co-producer.
DeGenova explained, "

Before I'm Gone is a song I recorded with my band back in 2016 as part of the original Really Human studio sessions, but I ultimately decided not to include it on the finished album. I thought it had too distinct of a vibe to be included with those other songs but I always loved the track. The song is an ode to chasing after youth and its fleeting nature. The longer I wait to put it out, the more resonant it becomes."
Since releasing Really Human, DeGenova has shared a few shorter releases, including the in 2021 EP Dopamine and a collaborative single earlier this spring called "Voice of Birds." He's also been filling in as an additional keyboard player for '70s-revivalist Neal Francis.
As he released his album near the very beginning of the pandemic, he's now sharing "Before I'm Gone" to commemorate the album after it got drowned out by a deluge of covid-related news and after the world entered lockdown.
Big Takeover is pleased to host the premiere of "Before I'm Gone" before it's released everywhere else tomorrow:
Spotify
Bandcamp/merch
Facebook
Instagram
TikTok