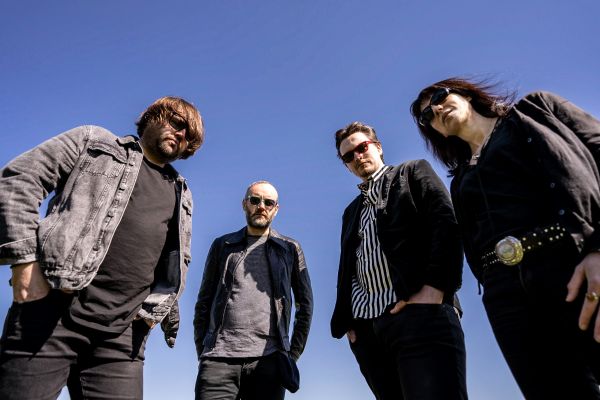 28 April 2021
Last Tourist – Photo Credit: Daniel Johnson
Last Tourist hail from the dark beating heart of Leeds, England. They conjure the sound of creeping down dark corridors and wandering through disused spaces, all set to a moody and rhythmic danceable beat.
Drawing firmly from post-punk ideals, this darkwave, shoegaze, and synth-infused four-piece formed in 2017 when John Wellby (guitar, vocals, programming) and Adam Simpson (synths, programming, backing vocals) joined forces as a duo. Their initial recordings were propelled by bands such as Echo & the Bunnymen, Suicide, OMD, and the Jesus And Mary Chain.
Driven by his radio airplay experience nearly a decade earlier in Broadcast Society, Wellby set about recruiting additional band members of similar vision. Jason Booth (bass guitar, bass synth), John's longtime friend and Sheffield Synth City native, was asked to join and bring his Leeds underground music and gig scene experience to the mix.
Finally, recent recruit Andrea Parra (drums, backing vocals), a Londoner by way of San Francisco (and fresh from recording percussion for Phillip Parfitt of The Perfect Disaster), neatly joins a bridge between north and south.
Big Takeover is please to host the premiere of Last Tourist's third single, "Cave In The Hills," which officially releases in digital format on May 7th.
The measured pace, yet brightening retro-vibed track moves forward with determination as Wellby sings in a droning chant amid the gradual addition of instrumentation.
Shaken percussion and a sedate drum beat are bolstered by shining, but short guitar riffs, the sharp jangle of tambourine, and roughly buzzing synth notes.
The song was co-produced by John Wellby and John Pennington (Head Sound Engineer/New Order), a Strawberry Studios North veteran who has worked alongside Martin Hannett, and whose history is infused with the studio's deep associations with Joy Division, The Smiths, New Order, and A Certain Ratio. The single was meticulously mastered by Simon Scott (Slowdive).
Website
Bandcamp
Spotify
Apple Music
Facebook
Instagram
Twitter
YouTube