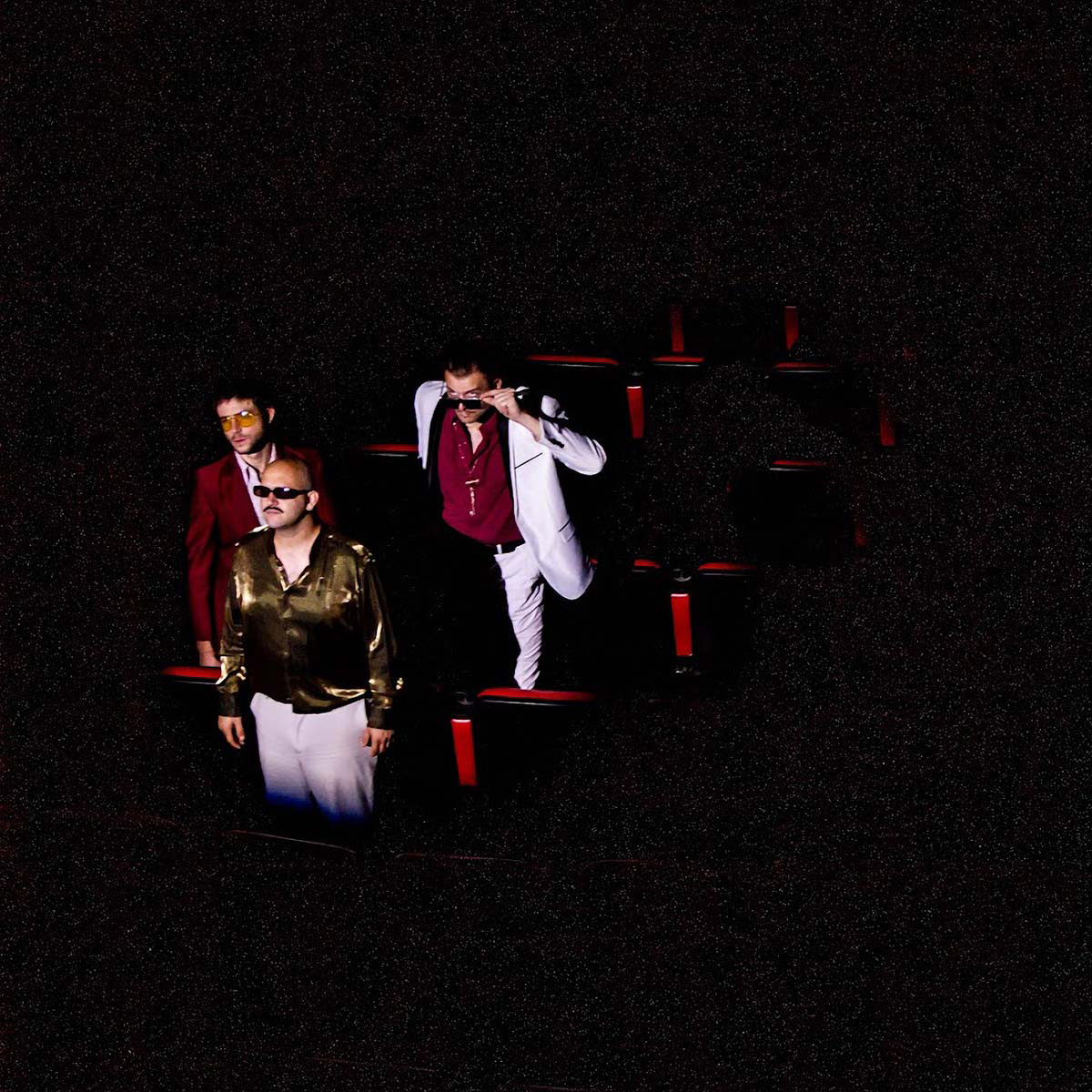 4 April 2022
Photo by Rick Campbell
As the sun sets on an ever-heating planet, strange synthesizers converse in the distance, punctured by disco rhythms and interjected by saxophone growls, akin to a jukebox of divine sadistic temptations, oozing goth rock-esque melodies that forever haunt you… You have just been exposed to the groovy sonic onslaught of CSDM a.k.a. Celebrity Death Slot Machine, a collective based in Atlanta, Georgia that features current and former members of alternative outfits: Material Girls, Neighbor Lady, Mothers and Rose Hotel.
While in the confines of their windowless subterranean concrete studio, CDSM is helmed by Ben Presley (vocals, guitar/bass, synthesizers, drums), Tyler Jundt (vocals, saxophone, synthesizers) and John Restivo Jr. (vocals, drums, percussion). The live band features accompaniment from Jack Blauvelt (synthesizers, percussion, backing vocals), Drew Kirby (synthesizers, guitar, backing vocals) and Vinny Restivo (synthesizers, bass, percussion, backing vocals). This formula, consisting of an evil choir of synthesizers, a shining drum set bathed in red fog, a tenor brass machete, and a cascading flow of motley melodists, is said to affect the room like a defibrillator jolting its pulse.
In February, the Atlanta-based post-punk group announced their debut EP Hell Stairs, out April 29th on Mothland. After sharing their lead single "GFH," the Atlanta-based post-punk band shares their newest single "Concrete" exclusively via The Big Takeover.
In "Concrete," the world is literally and metaphorically crumbling around you. A post-punk underground rager filled with rumbling synths and swirling saxophone riffs, "Concrete" is hedonism clinking in your glass, change jingling in the pit of your chest. Both glamorous and bleak, swanky and derelict, uplifting and crushing, "Concrete" is post-punk meets darkwave meets no wave, but it's even more so, an invitation to dance away the pain, in the form of croonesque laments, rumbling synths, swirling saxophone riffs and tight four-to-the-floor cadences. An unforgettable single with a dark, edgy demeanor. A must-listen for post-punk heads.
Stream "Concrete" exclusively via The Big Takeover today, and check it out on all streaming platforms tomorrow.