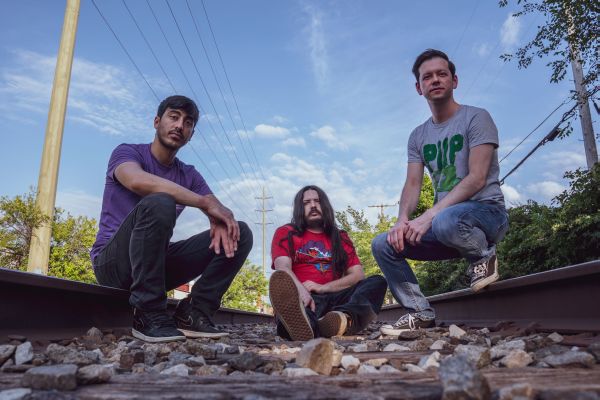 17 December 2021
Houses and Hotels – Photo Credit: Devon Keller
Houses and Hotels' new single, "Driver," is a straight-up pop-rock anthem. Rooted in Akron, Ohio, Houses and Hotels is a power trio fronted by Brad Flickinger on vocals and guitar. Together with Amir Gholizadeh on bass, and Tynan Evans on drums, Houses and Hotels combines pop-rock and shoegaze elements to create a throwback feel with a fresh, clean sound.
Big Takeover is pleased to host the premiere of the dynamic and tuneful "Driver" today on its release date.
"Driver" begins with a guitar fade-in, with the bass and drums dropping in with a driving (no pun intended, really!) rhythm and the emotive vocals layered over the top. The verse's beat and chords evoke a more perky Smashing Pumpkins' "1979". It's kind of impossible not to start head-bobbing and foot-tapping along to this one.
Flickinger's vocals are powerful and precise with a pleasant hint of Midwestern country inflection in the melodies. The melodic guitar riff in the second verse is a really nice touch which helps keep the feeling of building onto something and of going somewhere. Like on a drive!
"Driver" is a song all about a specific moment in Flickinger's memory. A bittersweet recollection of a night full of mixed signals while driving around. It encapsulates this moment in time that maybe many of us have experienced. The excitement and anxiety of just really not knowing if that person is into you. And he's just going where this mixed signaler is telling him to drive, which is probably the best move when unsure: "I am the driver of this car/You are the navigator." Flickinger belts in the chorus.
Oof. We've all been there. Communication is key, folks. Or you can do what many of us musicians do, which is wait a few years to process your feelings and then write a badass song about it. That's a kind of communication. Right? This is a great pop song from a tight-as-heck band. Verse, chorus, an excellent bridge. It checks all the boxes. Get in a car, take a cruise, and listen to "Driver."
Brad Flickinger kindly took part in a quick Q&A to give some details about the band and their music.
You've been a band for a while now and played in multiple projects together. How have you evolved as musicians since you first started playing?
"We've really come together over the years to hone the arrangements of the songs. Making sure parts aren't too long and adding subtle things to keep each part of a song exciting and not stale."
What about this project, Houses and Hotels, keeps you engaged versus the other projects you've worked on?
"This project is really vocal-centric so being able to use interesting chords to make the melodies unique is something I really try to accomplish. I love hooks so making a vocal line that gets stuck in your head always brings me a lot of satisfaction."
Your last album, the self-titled Houses and Hotels, came out in 2014. How does your new release set itself apart from its predecessor?
"This is the first release that's been professionally recorded and a huge departure from our self-titled. We dropped the folk influence from our first record since we felt we explored a lot of what that genre had to offer. We went more in a pop-rock direction with a touch of shoegaze which allows us to be more diverse in terms of sound for this release and future ones."
Mixed signals are a bummer. Did you learn anything from that experience or upon reflection during the experience of writing "Driver"?
"Self-worth is something I've struggled with for a long time. Realizing your own needs are important and having standards for people in your life makes a huge difference in how you're treated."