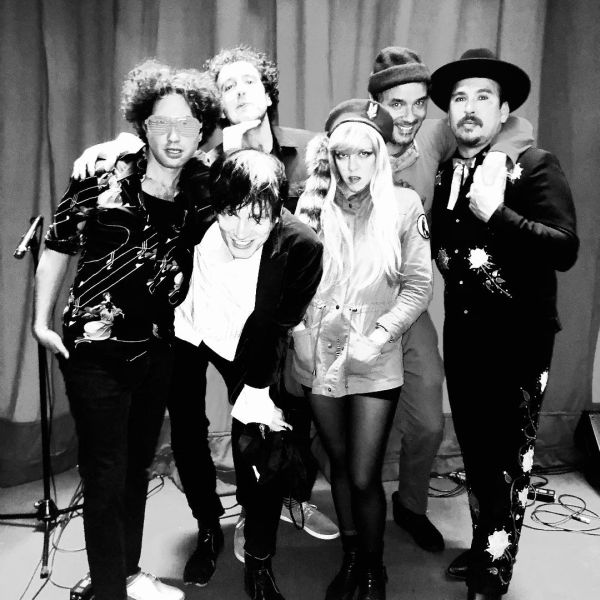 30 April 2020
Oozelles – Photo Credit: Ian Svenonius
LA-based art-rock/alt-punk act Oozelles is a gnarly-rad new supergroup comprised of members and ex-members of the following notable bands: Warpaint, Starlite Desperation, Dante Vs Zombies, Sex Stains, Detroit Cobras, Dura Delinquent, Jail Weddings, Swahili Blonde, Brass Tax, Ivory Deville, Black Pony, and Sugar and Gold.
Oozelles made their debut last year with a 7" on Third Man Records.
Dante White Aliano (vocals, guitar), David Orlando (drums), Jada Wagensomer (bass), Samuel Banuelos (guitar, keys, percussion), Gregory Marino (saxophone, flute, electronic wind instrument), and Phillip Minnig (guitar) create experimental music that wanders around or mashes up freak-jazz, art-rock, post-punk, alt-punk genres.
Oozelles' 12-song self-titled album, produced, recorded, and mixed by frontman Aliano, will be available on LP, CD, and digital formats beginning May 1st. A limited edition "Coke bottle clear" color vinyl pressing is limited to just 200 copies. The album was mastered by Dave Gardner at Infrasonic Mastering.
Big Takeover is excitedly delighted to host the premiere of the exploratory and lyrically pointed "East Of The River" ahead of the album's release.
On this trippy, meandering track, tropicalia, jazz, and Spaghetti Western styles collide and wind around each other. jazzy saxophone blasts, a swaying tropical rhythm, and Western noir guitar reverb supply a generous groove while Aliano exclaims with an anxious waver to his voice.
The band dig into the meaning behind the song's lyrics, explaining, ""East Of The River" is a fatalist horror anthem about how the masses relate to power, the true nature of which is mostly invisible to them and which their attempts to influence are typically less effective than the most barbaric of ancient rituals. It's also about uncontrollably grinning in the face of every kind of doom."
Pre-Order Oozelles at ORG Music
Pre-Order Oozelles at other venues