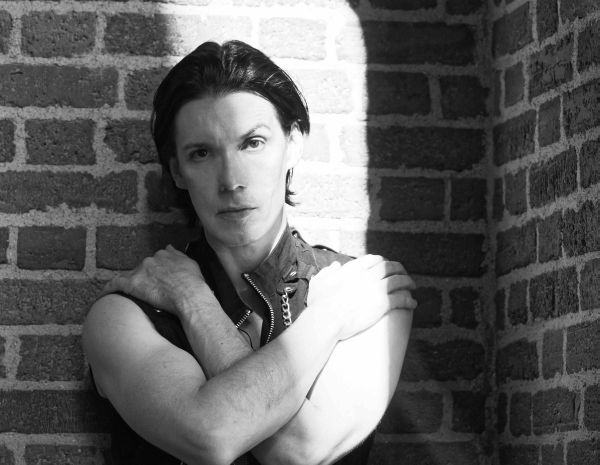 11 August 2020
Julian Shah-Tayle – Photo Credit: Alex Tovar
Today we're pleased to premiere the latest offering from LA-based and Leeds, UK-bred artist Julian Shah-Tayler, a.k.a. 'The Singularity'. We recently covered some of his work as producer and musician on Darwin's latest single 'Dance Alone', but here we explore his output as songwriter and performer in his new single 'Evolution'.
This track features a contribution by MGT (Tricky, The Mission UK, Peter Murphy, Ashton Nyte, The Wonderstuff). MGT is Mark Gemini Thwaite, a guitarist with a massive music pedigree. But so does Shah-Tayler, who is currently working with the legendary Robert Margouleff (Stevie Wonder, Devo) on his next album. Recorded in his TARDIS home studio in Los Angeles, additional guitars were also provided by Gene Micofsky.
The result of this collaboration is perfect nostalgia-infused pop. This is right up there with the best of Erasure and Depeche Mode with the melodic perfection of China Crisis and Ultravox. 1980s synthpop ethic proves as powerful a force as ever, ideal for dancing, love making and driving with convertible top down.
Singer, writer and producer, Julian Shah-Tayler makes electro rock new wave 'intellipop' for the 30th century. Having spent much time as a touring musician, Julian has experienced the pain of meeting and "breaking up with" people every night.
"Evolution is about the difficult process of evolving towards loving kindness through the layers of love and loss in a society that cares nought about the human heart, and more about 'norms'. It is about holding on to the pure ideal of the heart despite the cynicism of the intellect," says Julian Shah-Tayler.
"Each human contains great beauty within, and it is impossible to disregard a connection however brief once made."
After completing a philosophy degree at York University, Julian moved to London as a singer-songwriter with classical training on piano and self taught on guitar. After several abortive record deals with music industry legend Alan McGee, he joined the hip electro clash outfit Whitey as co-writer/ guitarist, recording many of those songs in his nascent home studio.
After parting ways with his bandmates, Julian moved to L.A. to launch his own project The Singularity. There, he has had considerable success with TV and film licenses, known for his work on 'Plush', 'Riot on Redchurch Street' and Disney's 'Maleficent'. He won a Golden Trailer award, along with Daisy O'Dell, for his work with Lana Del Rey on the trailer for the latter film.
In addition to scoring music with O'Dell for the two-time Emmy winning 'Actors on Actors' TV show, his music has been performed for Robert De Niro, Bill Clinton, and Martin Scorsese via the Unite for Humanity charity at the Oscars.
Julian also recorded a unreleased album with Joaquin Phoenix and Antony Langdon (Spacehog), as well as directing Island Def Jam artist Kerli 4 for songs he co-wrote with Siobhan Fahey (Bananarama, Shakespear's Sister). His remix of Nico's 'These Days' with Daisy O'Dell was featured as KCRW's "One To Watch". He also co-founded the 'Art Angeles' charity, teaching underprivileged kids music in Watts.
When he is not writing and recording original material or producing other artists, Julian Shah-Tayler is selling out venues with his David Bowie tribute band The Band That Fell To Earth, his Depeche Mode tribute band Strangelove,and moonlighting as singer-keyboardist in The Cure tribute band The Cured.
'Evolution' will be released on August 21 across digital outlets such as Apple Music and streaming platforms like Spotify.
CREDITS
Written, Produced, performed, mixed and mastered by Julian Shah-Tayler
Additional guitars by Mark Gemini Thwaite and Gene Micofsky
Recorded at TARDIS Studio, Altadena
Artwork by Julian Shah-Tayler
Cover photos by Eva Wolfe-Warden
Also check out his recent singles, produced by Julian Shah-Tayler, Robert Margouleff, and Zeus, as well as the award-winning 'Malificent' trailer, for which he worked with Lana Del Rey:
JULIAN SHAH-TAYLER
Website
Bandcamp
Facebook
Instagram
SoundCloud
YouTube
Twitter
Spotify
Apple Music