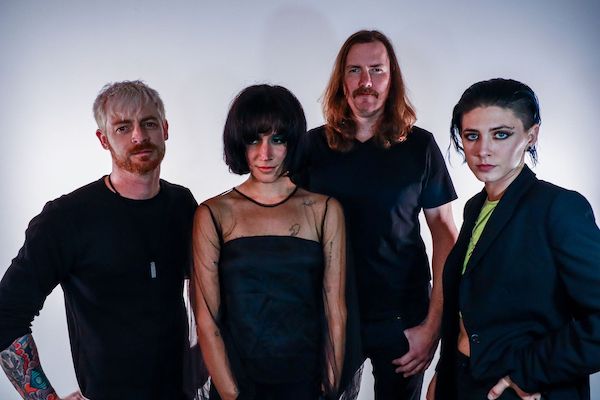 22 February 2022
Sandman Sleeps – Photo Credit: Parisa Farbakhsh
"Really, it was all about Alex [Peck]'s bass line," Sandman Sleeps' vocalist/guitarist Cristina Peck exclusively told the Big Takeover about the thunderous rhythm in the indie-rock band's new single, "Fellini."
With their debut, Crisis Actor, imminently approaching on March 26, Cristina spoke in awe of her sister's ability to infuse such a catchy bass line into the modern-rock twister of a song. Premiering exclusively on the Big Takeover today, "Fellini" is the second single from the Fort Pierce, Florida-based band's independently released album.
Naturally, "Fellini" takes its namesake from the iconic film director Federico Fellini, whose monumental film La Dolce Vita (1960) inspired the song.
"Lyrically, 'Fellini' was inspired by snippets of La Dolce Vita and feeling like somewhat of a loose cannon in my early 20s," Cristina Peck added.
For those whose Italian might be a little rusty, La Dolce Vita translates to "This sweet life." Sandman Sleeps' gregarious, full-throated embrace of their rebirth as a band in 2019 is aptly summed up by the phrase.
Wrapping itself around Alex's bass line like a warm blanket, drummer Karsten Andersen and guitarist Zack Jones envelop the caustic post-punk energy that highlights Cristina's slinky vocals, which themselves growl with the fierceness of Belly's Tanya Donnelly and the carefree abandon of Tori Amos.
"[Alex] started the song and laid down all of the foundation for it, writing the changes and structure," Cristina recalled. "It was really exciting when she played it for me for the first time. I then followed with minimal guitar, and the vocals came from there."
Anxiety-inducing with a restless, punkish spirit, "Fellini" bounds and bounces with the same adrenaline that fueled the early-'00s paranoid-rock scene dominated by Bloc Party, the Rapture and We Are Scientists, hinting at Sandman Sleeps' influences.
" 'Fellini' was written in 2010," Cristina confessed about the song's origin date. "It was one of the first songs my sister and I wrote together."
"We play these songs like we're gonna die tomorrow," Cristina deadpanned. "The possibilities are endless."
Listen to Sandman Sleeps' "Fellini" here:
Pre-save Crisis Actor right here.
For more on Sandman Sleeps, go here:
Band website
Facebook
Instagram