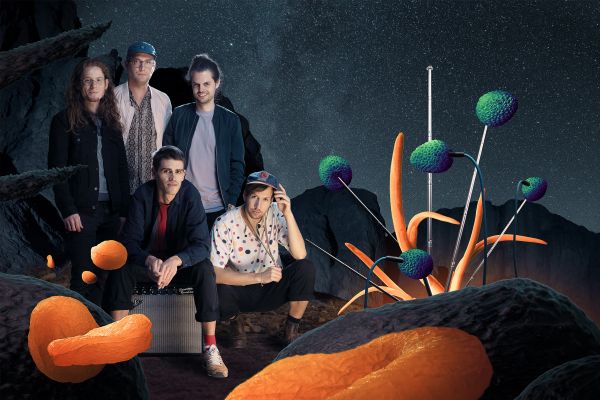 2 June 2020
Alois – Photo Credit: Tim Wettstein
Releasing your music right now comes loaded with risk. Streaming revenue didn't exactly spike during the outbreak, and it's still unclear when touring will finally resume. There is also the fact that not every record which drops feels relevant under the circumstances, as most have been written in a completely different reality.
This, however, is not the case with the second release from Swiss indie-pop outfit Alois (Martin Schenker, Pascal Eugster, Florian Schneider, Lukas Weber, and Luzius Schuler).
Their forthcoming record called Azul (Blue) is basically an escapist fantasy served as a soundtrack to an imaginary vacation in a beautiful, sunny place. And don't we all need that escape right about now!
These songs were written by vocalist / bandleader Martin Schenker as a way to deal with a bout of depression. Music therapy, you might call it. The outcome is everything that you would imagine it to be: upbeat, warm, soothing, positive, and deeply infused with a tropical flair. It's also extremely danceable and extremely melodic.
This peculiar mixture of synths with a well-oiled sound of a band plowing through some heavy grooves definitely brings to mind the Talking Heads circa Remain in Light, but with a tropical twist. This will definitely be a fun show to see, once touring is possible again.
Big Takeover is absolutely delighted to be able to premiere the song "German Oak," which perfectly encapsulates the record's vibe. Schenker says this about the song: "When you grow up in the countryside you're exposed to conservative dogmas. It's quite hard to overcome them, even if you're in a forward thinking environment and surrounded by a modern community. These dogmas come up and confuse you, and in the end you don't know who to believe. To be honest, I'd like to get rid of them all!"
Azul will be released on Friday, 5th of June courtesy of Red Brick Chapel Records.
Website
Facebook
Instagram
Spotify
Apple Music