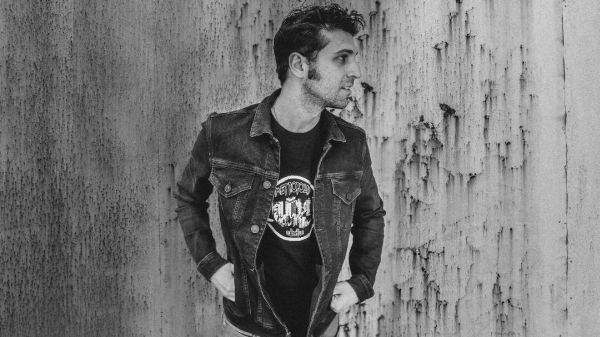 10 August 2020
Adam Silvestri of Radiator King – Photo Credit: Kenneth Pollin
Since the release of Radiator King's 2017 second album, A Hollow Triumph After All, singer-guitarist and creative mastermind Adam Silvestri has been searching high and low for a sign, a trail, a clue, that would lead his sound and songwriting in some new direction.
As he geared up to write and record what would become his new album, Unborn Ghosts, Silvestri alternated between the trenches of rock & roll—touring America on a shoestring budget in a Ford Econoline van—and holing up in his Brooklyn apartment or the local public library, reading and researching—gathering fuel for his muse.
"When you're on tour, you collect so many recommendations from the people you meet—Melville's Moby Dick, Kierkegaard's Fear & Trembling," Silvestri says. "So I'd read all these books and just freewrite—turn off my intellect, get logic out of the way, let my subconscious flow and just see where it went. Eventually, I'd notice little threads developing, parts that fit together, and maybe by the end of the week I'd have a new song. You have to have faith in the process. If you don't, you'll never have the patience to stumble on what you're trying to say."
Musically, Unborn Ghost tracks like "Gamefighter," "Raylene," and new single "Haunts Me Now"—the latter debuting today here at The Big Taekover—began to synthesize Radiator King's varied past sounds into a new cohesive whole. "I used to have my heavy songs, my ballads and my folk songs," Silvestri comments. "But I had a breakthrough to where I'm now combining these different structures and sounds within the same song."
Featuring an impressive set of musicians, including drummer Brian Viglione (Dresden Dolls, Violent Femmes), Jesse Malin guitarist Derek Cruz, and bassist Ed Goldson (Ghostface Killah, Passion Pit), "Haunts Me Now" is a spectral, punk-tinged folk ballad that grapples with the idea that you can't run from the past—that you must confront your demons.
"There's a conflict in realizing that the same elements responsible for some of our fondest memories can also be the catalyst for our most negative and destructive memories," Silvestri notes. "The narrator in "Haunts Me Now" is recalling difficult things that happened in his childhood, and his first instinct is to try to be tough. He's fixated on putting it all behind him, on escaping to a future that takes him far from his past. But eventually, this way of thinking starts to consume him. And by the end of the song he understands that you have to deal with traumatic past experiences head on, you have to challenge them. If you don't, they'll overcome you."
"I wanted to write a song that was relevant to my life in the moment," Silvestri says of "Haunts Me Now." "Looking back on the places I've been and the things I've done, I'm starting to approach a deeper understanding of their significance. I think that comes with time and age. Memories are elastic—we see them in a different light, and they hold different truths, depending on the stage we're at in life. Some can be tough to reconcile, but facing them is a necessary step if you want to progress. To be a better person, you have to confront your past in an honest way."
Radiator King's Unborn Ghosts is out August 21 via SoundEvolution Music, and to celebrate the milestone, Silvestri is trying something unique. Since a traditional release show isn't possible in the time of coronavirus, Radiator King and solo artist / Jesse Malin-collaborator Don DiLego —who co-produced Unborn Ghosts —are teaming up for a special streaming release show, live tonight (August 10) at 7:30 p.m. from the stage of NYC club The Bowery Electric. Tickets for the livestream are available at EventBrite, and a portion of the proceeds will benefit Black Lives Matter.
"The show on Monday will be the first time I've played with a band on stage in six months," Silvestri says. "I don't think I've ever gone longer than two months without playing a show in the last decade, so as you can imagine I'm pretty psyched. Sure, I've broadcast many solo livestreams during the pandemic on an acoustic guitar from my kitchen, but that is extremely different than performing with a band on a great sound system in a proper venue. There's an energy that happens when you're on stage with your guys. You strike a chord and the air from the speaker pushes it out with power. The sound rips through the room, and you can feel the reaction of the other musicians you're playing with. There's a dialogue through the music and this telepathic connection starts to take over. Of course, this is always amplified by the energy of an audience, but this will definitely do for now. I'm grateful for the opportunity to play."
Tickets can be purchased at Eventbrite
Album pre-order / pre-save HERE
Website
Facebook
Twitter
Instagram
Spotify