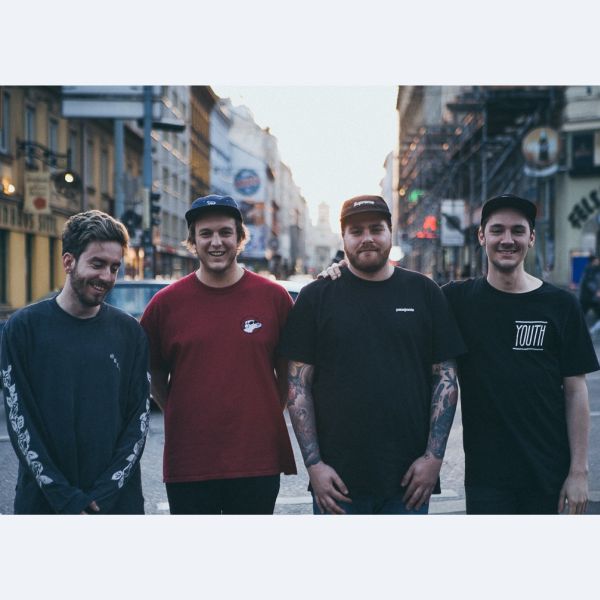 9 August 2020
Backwards Charm – Photo courtesy of Somewherecold Records
Backwards Charm is an indie/dream-pop quartet based in Salzburg and Vienna, Austria. Within roughly two years' time they released their first LP Far from Heaven in my Mind (Schall & Wahn Productions, Stray Records) and their demo-EP dreamlessly (Schall & Wahn Productions, Featherlight Records).
Having performed live in Austria, Germany, Switzerland, Ireland, Italy, and Belgium they have managed to draw the attention of diverse audiences with their direct, but effective songwriting; the thoughtful arrangement of cynically romanticizing lyrics combined with pure and catchy melodies that evoke the feeling of being stuck somewhere in between reality and dream.
Daniel Lang (vocals, guitar), Thomas Hofer (guitar), Martin Teutsch (bass), and Thomas Bauer (drums) now return with their spectacular new album Nevergreen via Somewherecold Records.
Big Takeover is extremely pleased to host the premiere of the lyrically reflective and sonically restless and effervescent album today, a week ahead of its official release date of August 14th.
Nevergreen is a lyrically perceptive and shoegazy musical rendering of contemporary 21st century conflicts. Reverberating the discord of social and individual demons, both the album's tracks and its cover artwork aim to resemble a coming to terms with not only an external, but also an inward dystopia.
Nevergreen's guiding thread is the thematic and stylistic omnipresence of clouded minds being caught up within a corrupt and dystopian setting.
Highlighting the gravity of inner and outer demons, the front cover – designed and crafted by Edin Suljkanovic – comes with a two-way interpretation: while the abstract shape might portray a cloud in the sky, it could simultaneously display a jellyfish in the water; embracing the ambivalence of clouded minds on the one hand, and the symbolic imagery of endzeit on the other; the former resembles the woe within the lyrical, whereas the latter represents the landing of calamity on the shores of perception.
The lyrics, written and sung by Daniel Lang, reflect the very same theme of dystopia and clouded minds, and is again recognizably emphasized. Served with a pinch of scorn and sarcasm, tracks like "Land of the Dumb" and "Funereal Dreams" hint towards the foolishness of politically regressive cults, how kindness suddenly seems to be no longer socially acceptable, and in how far our very own memory fails us due to our cognitive dissonant behavior.
What Nevergreen explicitly expresses isn't some kind of longing towards better days; the album's lyrical content points out what's wrong in the first place: how we're all subordinate to our own distorted senses; how we all reside in our pseudo-intellectual bubble, neglecting everything we don't see fit to be acknowledgeable.
In the title track, the projection of the lyrics are representation of the thoughts of a trodden bug showing yet again how persistent and dysfunctional pseudo-intellectualism can be; assuming the potential thoughts of only a small entity in nature, the bug in Nevergreen functions as a synecdoche, hence it represents the entirety of nature, and more importantly, how undeservingly we treat it.
Produced by Christoph Eymannsberger (Schall & Wahn Productions) and Daniel Lang, Nevergreen's melody-driven guitars, paired with straightforwardly solid drum beats and bass lines, intend to create a reverberating atmosphere of instrumentals while at the same time leaving plenty of room for the airy and softly sung lead vocals.
With the instrumentals, vocals, lyrics, and visual artwork all thrown into the mix, the album's message becomes just as listenable as its perceptible sounds. Message-wise, the album title can be understood as overt and literal: "The grass is always nevergreen…"
Pre-Order Nevergreen at Somewherecold Records' Website or at Backwards Charm's Bandcamp
Facebook
Instagram
Bandcamp
Spotify