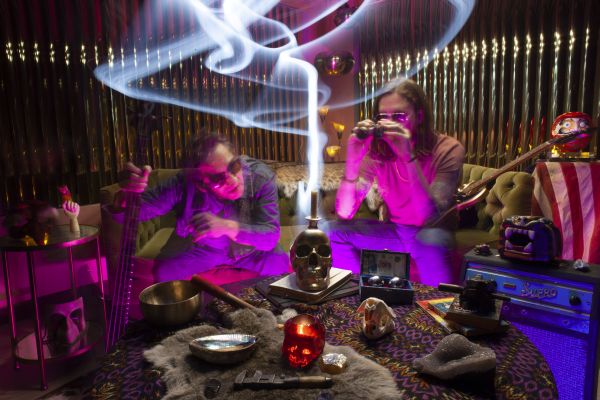 25 February 2021
The Gama Sennin – Photo Credit: Kate McCabe
Bursting onto the music scene with bold sonics and amplified energy, Los Angeles-based psychedelic/alternative rock super-collective The Gama Sennin are getting attention with their explosive debut single "I Kill You," which Big Takeover is pleased to host the premiere of today.
The Gama Sennin is composed of frontman Kevin McGuire, John Avila (Oingo Boingo, Mariachi el Bronx) on bass, Adam Maples (Earthlings?, Sea Hags) on drums, Dimitri Coats (OFF!, Burning Brides, Ten Commandos) on guitar, Chris Caswell (Daft Punk, The Muppets) on keyboards, Art Pacheco (Jamaica) as percussionist, and special guest David Catching (Rancho de la Luna, Earthlings?, Queens of the Stone Age).
"I Kill You" was recorded at the famed Rancho De La Luna and Panoramic House with co-producer Peter Franco (Daft Punk), mixed by Dan Lerner (Daft Punk), and mastered at Capitol Records by Ian Sefchick.
The wicked-cool song builds up quickly to a careening tempo, running on dark, motor-grinding guitar churn, a monstrously lurching bass line, and pounded-out drum strikes and scintillating cymbals kick.
McGuire emotes in a menacing tone, defiantly matching the gritty power of the track. The catchy and anthemic chorus sections shoot through with mordant lyrics that bridge the gap between the chorus and verse.
The Gama Sennin merge the best of '90s alt-rock, grunge, and even noise rock on "I Kill You" to create a mind-bending original sound.
""I Kill You'' is pure energy, raw and very addictive," explains McGuire. "It's the introduction to a journey beginning with the destruction of ego."
The track begs the question, how do you convince yourself that nothing matters? How do you sell yourself on the lies and the disinformation while life everywhere seems to devolve? The lyrics are the inner monologue of someone who's on the edge, trying to convince themselves not to step over the line, while the inner voice is clearly screaming "Do it."
With their highly anticipated self-titled album in the works, The Gama Sennin's strikes an aggressive, yet tuneful chord that is a raw and potent harbinger of what's to come.
Instagram
Facebook
Twitter
Website