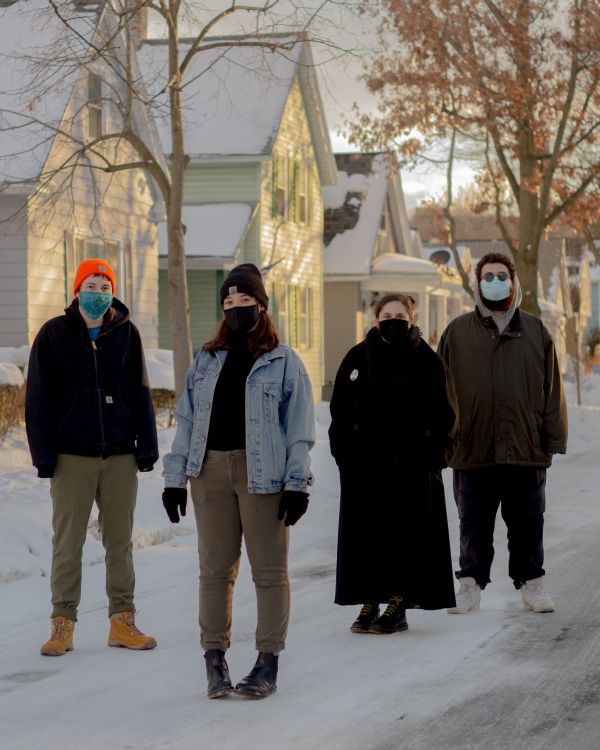 20 April 2021
Cusp – Photo Credit: Clara Riedlinger
Jen Bender, the singer, guitarist and songwriter for Rochester, NY's indie rock band Cusp, and her bandmates Gaelen Bates (guitar), Cassidy Rose Hammond (bass), and Dylan Vaisey (drums) are no strangers to jagged, propulsive, anxious music.
Cusp contains members of the outfits Rut and Full Body (now Full Body 2) and their upcoming Spill EP arrives May 7th via Dadstache Records.
The music on the EP pulls from some of the same sources as those previous bands, but juxtaposes themes of anxiety and helplessness with moments of hopeful determination, and a desire for a better understanding of how people process the world around them.
"Some of these songs are about specific events/people from my early 20s that have stuck with me. Most of these capture the time of my life right after college, when I was still processing the previous four years and also mentally preparing for the vastness of adulthood," recalls Bender.
The song's structures shift on a dime, melodies flirting with pop that never resolve as you'd expect, opting to bend and swerve rather than settle into what's comfortable.
Catchy, direct, and heavy at times, Spill is a powerful first offering from a band committed to self-reflection and empathy. Over the course of several months, Cusp recorded the EP across several locations in upstate New York.
Big Takeover is pleased to host the premiere of "Illusion Controlling," a restless and vivid track off the record.
"Illusion Controlling" is an angular indie rock track that at first lightly creeps along with a stop-start stagger punctuated by pronounced drum thump and dramatic cymbal crashes. Bender's voice is quiet and introspective, but as soon as the chorus kicks into gear, she emotively explodes along with the sonics.
Grungy churning guitar riffs and low-end bass line scramble with frenzied urgency for a time before sliding into the lulling, but skewed verses.
Lyrically, the song uses car metaphors about living a life on autopilot, where the safety features of a car alert the driver to the dangers of the road – and in where it's easy to miss the details until someone reminds you of what's around you.
Bender sums up the song, stating obliquely, "Honestly, this is an ode to my Subaru. A lot of it is about feeling helpless and feeling angry at feeling helpless. I thank my Subaru for alerting me to oncoming traffic."
Pre-Order Spill on Dadstache Records' Bandcamp
or Cusp's Bandcamp