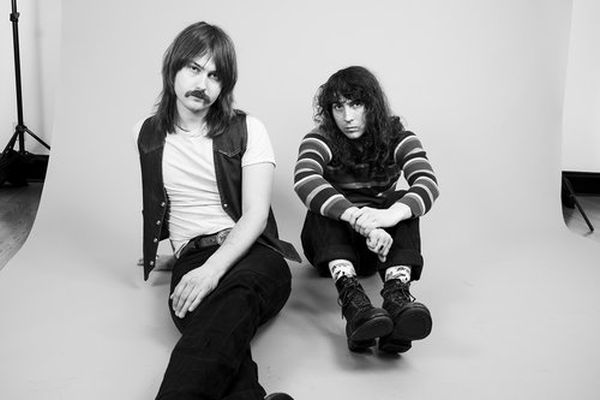 8 May 2019
Fever Feel – Photo Credit: Nicole L. Galinson
Founded by brothers Landon Franklin and Logan Gabert in Calgary AB, Fever Feel is a modern take on rock 'n' roll music, nodding to the simplicity of the past while moving forward with a sound of their own. Now based in Victoria BC, the group infuses their music with a hazy wash of '60s psychedelia, thoughtful lyricism, and laid-back, experimental rock and pop sensibilities.
The Big Takeover is pleased to host the premiere of Fever Feel's brand new single "In The Palm Of Her Hand" (paired with b-side "Corner Store Cowboy" for the release). The track features a blend of acoustic instruments and pedal steel and focuses on the lighter side of the band.
The brief, but beguiling "In The Palm Of Her Hand" flies by on a breezy vibe of curling guitar lines, jaunty piano notes, a reverberating drum beat, and casually dreamy vocals. The song is part of an ongoing series of singles to be compiled on Fever Feel's next full-length album Less Precious.
For years the band has been making their mark nationally with a number of U.S. and Canadian tours. Recording on off times in between tours brought forth the band's 2018 self-titled LP which was mixed by Grammy-nominated engineer Claudius Mittendorfer (Weezer, Parquet Courts, Johnny Marr). Fever Feel is proud to continually share the stage with great established acts (Yukon Blonde, Reignwolf, Small Black, In The Valley Below) and just finished a tour supporting Shawn James.
""In The Palm Of Her Hand" is a song of love and loss. The words spell out parallel memories that trace the lines between falling in and out of love. The song was recorded at The Elliston Estate and later mixed by David Parry of Loving. "In The Palm Of Her Hand" is the first single from our upcoming album Less Precious, which is a collection of songs recorded at various locations across North America."
Website
Facebook
Twitter
Instagram