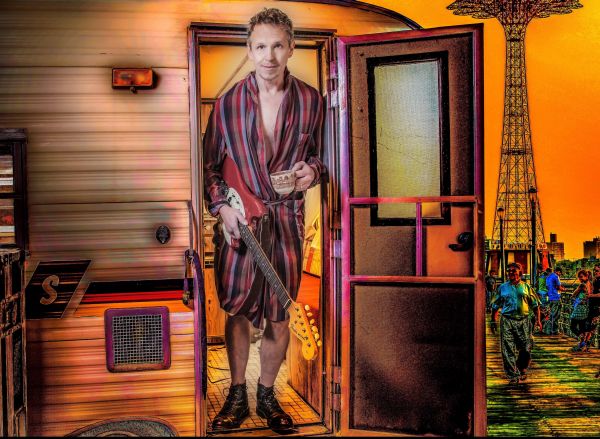 2 September 2020
Stephen Clair – Photo Credit: Tony Cenicola
Hot on the heels of last year's Malcolm Burn -produced Strange Perfume, Stephen Clair and his trio arrive just in time to reignite your summer with the brand new 11-song album The Small Hours, out on September 18th via Rock City Records on limited edition vinyl 12" LP, CD, and streaming.
Recorded at the beginning of 2020 in upstate NY, a minute before all hell broke loose, this is the Stephen Clair album we've been waiting for. It perfectly displays the power of his songs and his solid-yet-dangerous trio. It's spare, taut, fully-realized, and elevated by the muscle of his well-suited comrades, Daria Grace on bass, and Aaron Latos on drums. Clair wields a Telecaster throughout.
Clair penned these 11 songs in the second half of 2019, and true-to-form, there is something for everyone here. Rock and roll songs, jazzy songs, noir ruminations, and more. The dynamics throughout this record are a hook in and of themselves.
Big Takeover is pleased to host one such vibrant and catchy track, the up-tempo pop rocker "Is This Thing On," that, along with album opener "Come Down" kick off the run of tracks on a lively note.
Clair sings in a confiding tone, unspooling the narrative about people who babble before they actually think about what they're saying, and use social media to amplify their thoughtless messages. The tuneful number features sing-song verses that shift into plaintively yearning chorus sections, with Clair's thoughts being bolstered by ringing guitar lines, deep bass line undertow, punchy drums, crashing cymbals, and a touch of bright organ press.
Clair gives some details about the song, explaining, "Some people … I tell ya. Give them a mouthpiece and they'll say anything. Now that we all live through a digital media, we forget to think before we speak. Actually, some neglect to think. Run into that same person on the street and they act like they don't remember, or maybe we're just taking it all a little too seriously. The band rears up and goes for the fences on this one. And I throw down an unmentioned-in-the-liner-notes Farfisa solo."
Pre-Order The Small Hours at Bandcamp
Website
Facebook
Instagram
Twitter