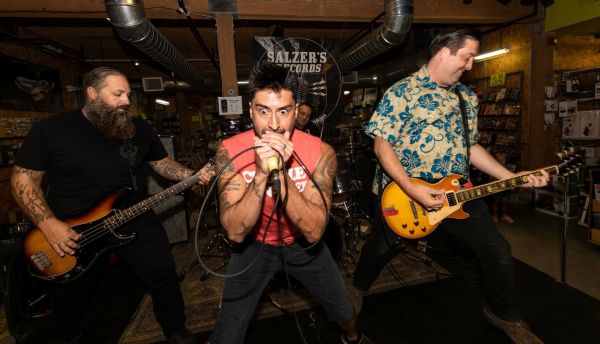 6 December 2018
Dad Brains – live – Photo Credit: Albert Munoz
Dad Brains is ac Oxnard/Ventura, CA-based band of punk rock dads comprised of ex-members of such notable punk bands as No Motiv (Vagrant Records), The Missing 23rd (Sessions Records), Creep Division (American hardcore/punk band that featured members of Good Riddance), and The F-ing Wrath.
The Bad Brains-lovin' fathers rock out on their songs, unleashing fun and raucous times about their hectic, messy, child-centered lives. And now this is Christmas season and what have they done, but release a holiday-themed split 7" with Philadelphian all-mom Ramones cover band Ramoms!
The physical format of the MERRYXMAS 7" will be available on December 14th via Pirates Press Records. Digital drops this Friday, December 7th.
If you are a punk parent (or even if you're not), this is a must-have this holiday season!
The Big Takeover is super-psyched to premiere the original track "It's Christmas Time" by Dad Brains. The blazing and raging tune is pure hardcore/punk, with a fiery guitar grind, low-end bass groan, pulverizing, slammed drum beats, and frustrated vocals vented with and end-of-the-rope fury.
But the subject matter is hilarious, with timely lyrics (La Croix drinks and Sick Of It All are mentioned) and amusing lines like, "'Twas the night before Christmas / and all wasn't quiet in the house / 'cause I had a two-month old baby / and my mother-in-law sleeping on my couch."
The pairing of Dad Brains and Ramoms was a total no-brainer and the 7" contains three original tracks and a perfectly fitting Ramones cover.
Buy one for yourself. Buy one for your partner. Buy one for anyone else you know who can relate to no sleep, no time for themselves, and are pulling their hair out over the madness that ensues around little punk munchkins. All cool parents deserve one of these in their stocking!!
With the buzz surrounding both of these bands, this Limited Edition 1st pressing is bound to fly, so get your holiday orders in quick.
Tracklisting:
A Side (Dad Brains):
1. It's Christmas Time
2. Grinch
AA Side (Ramoms):
3. Lego Blocks
4. Merry Christmas (I Don't Wanna Fight Tonight) [Ramones cover]
Pressing info:
1200- 7" Kelly Green with lots of Red & White splatter
Pirates Press Records Website
Dad Brains Facebook
Ramoms Facebook