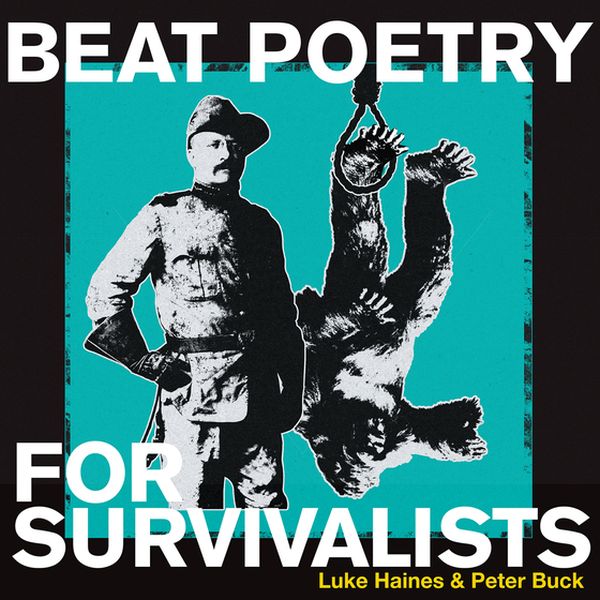 22 November 2019
Beat Poetry For Suvivalists album cover
Musical luminaries Luke Haines and Peter Buck have joined up on a new album titled Beat Poetry For Suvivalists that will arrive on March 6th of next year via Ominivore Recordings.
That's right – You read it here first – Quite an unlikely, but very welcome, pairing between Haines (who is also a visual artist), the acerbic mastermind and guitarist behind the UK's pre-Brit-pop indie pop-rock band The Auteurs, and Buck, the guitarist extraordinaire of US indie (and, then, well, not-so-indie) band R.E.M..
In an interesting turn of events that led to the formation of this collaboration, one day Buck bought one of Haines' paintings of Lou Reed. They had never met before, but decided that the fates had brought them together and they should write some songs together and make an album.
Beat Poetry For Survivalists is that album. It features songs about legendary rocket scientist and occultist Jack Parsons (The Enfield Hauntings, 1978), a post-apocalyptic radio station that only plays Donovan records, Bigfoot, and Pol Pot.
The Big Takeover is delighted to host the exclusive premiere of said "Jack Parsons," a quirky and shambling track that runs on trippy psych-guitar squelch and chime and a plethora of sounds that flit in and out of the song.
"Jack Parsons" (the song, not the man) is filled with clacking to frittering percussion, twisty space noises, harmonica reverb, and found sound clips – and of course dashingly delivered stream-of-consciousness lyrics that are just as diverse and divertingly dented as the sound. One wonders what to think of the celebrated Parsons now after listening to this striking odd-pop track…
Pre-Order Beat Poetry For Survivalists HERE
Track listing:
1. Jack Parsons
2. Apocalypse Beach
3. Last Of The Legendary Bigfoot Hunters
4. Beat Poetry For The Survivalist
5. Witch Tariff
6. Andy Warhol Was Not Kind
7. French Man Glam Gang
8. Ugly Dude Blues
9. Bobby's Wild Years
10. Rock 'N' Roll Ambulance