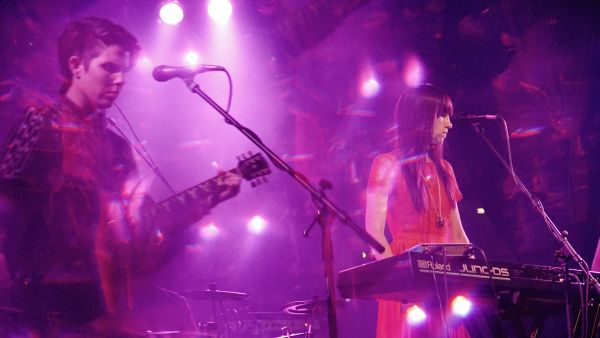 19 April 2019
Dinosoul – live – Photo Credit: Tom Bush
Dinosoul is an American dark pop/indie rock band formed by partners Donny Donovan (vocals, guitar) and Carolyn Hilliard (vocals, keyboard) in Pittsburgh in 2016.
Donovan and Hilliard started the band after only a year of being together and realizing that they had something beautiful and special to share with the universe based on what they were experiencing since meeting each other. Dinosoul is Hilliard's first band and first time song-writing. At the beginning, she was so nervous to sing in front of Donovan, who is an avid singer, songwriter, and performer. But after months of encouragement from Donovan, she finally broke free and Dinosoul came to life.
The pair have faced and overcome many challenges that have forced them to grow and the result is their own healing and spiritual growth both as individuals and as a partnership. Through trials and tribulations, they realized that the journey on Earth, although painful at times, is beautifully orchestrated if you trust and allow it to flow.
One of their favorite quotes to live by is "Pain is Medicine. Pleasure is disease." They now know that they met each other to spread this awareness through their expression. Their music and lyrics touch people on a universal level and find you when you are ready as stated in their mission statement spoken at every show.
The Big Takeover is pleased to host the premiere of one of their perceptive tracks titled "Let Me Go." Besides the lyrical content, this synth-rock song races by at a propulsive pace with fast-smacked drum beat and cymbals bash, gleaming guitars, jumpy bass line, and waves of flowing synths. The vocals alternate between dispassionate emanations on the verses and rising, passionate exclamations on the chorus sections.
The duo explain that, "This song is about freedom of choice. You can choose to let go or not let go of something. When is the right time to let go? Is there ever really closure because the universe is infinite? As we let go of messes we have created, it's not about "letting go" as in forgetting. It's about letting go, evolving and taking the responsibility to make future changes and allow healing from a new perspective and dimension. The more we make changes from within and allow these changes to flow into our external world, the more of an impact we will have on our future of healing this Earth and humanity."
TRACK CREDITS:
releases April 19, 2019
Donny Donovan – vocals, guitar, bass
Carolyn Hilliard – vocals, keyboard
Skeye Berry – guitar
Glenn Durham – drums
Engineered and recorded by Jesse Soracco
Mixed by Jon Miller
Mastered by Alex Santilli
Artwork by Brittany Dael