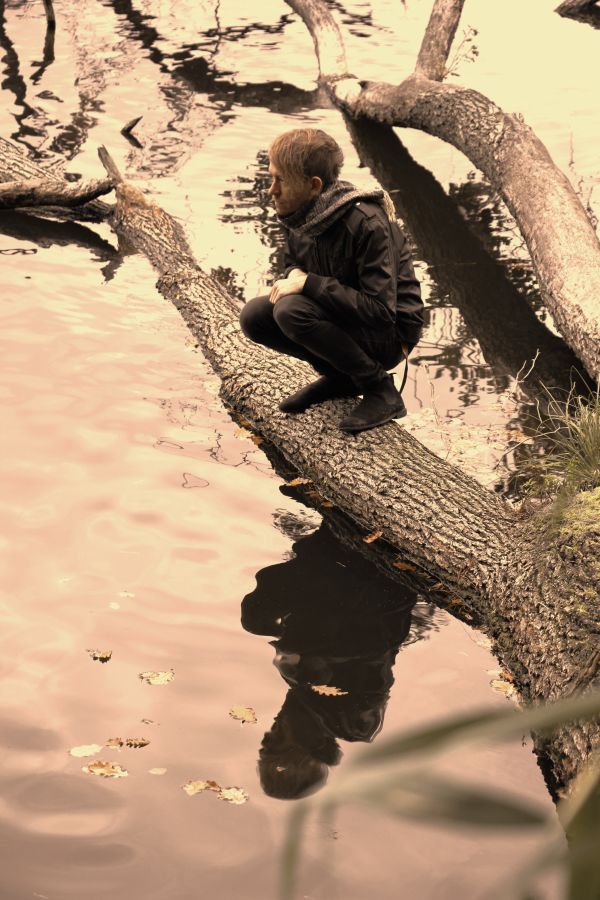 20 October 2020
Fir Cone Children – Photo courtesy of Alexander Leonard Donat
One thing you can count on in these troubled times: there's always more trouble around the corner, and there's a Fir Cone Children album coming once a year. The one-man dream-punk project from Berlin started in 2015 with the dreamy garage punk of "Everything Is Easy," telling stories of frontman Alexander Leonard Donat's first daughter who was barely 2-years old then.
When Donat and his wife had their second daughter two years later the sound gradually shifted into a stormy version of shoegaze and punk that aimed for the fastest version of the band possible, which meant that even blastbeats (grindcore and black metal anyone?) were regularly included in the life-affirming, yet melancholic character of the band's sound.
Present day: With album number six, the indie rock influences that opened the 2-minute song structure on the preceding album, Fog Surrounds Us, have taken further control of the dream-punk sound. Fir Cone Children haven't lost their fast and stormy character, but they take their time and give each song's passage the length it deserves.
Big Takeover is pleased to host the premiere of the single "Max & Hax" today. Fir Cone Children listeners might be surprised to find themselves in the middle of a warm and fuzzy guitar solo and longer instrumental passages.
Don't be mistaken, though; the song starts off with euphoric crashing drums and a jubilant "Whoooo!" before twangy surf guitars and and polyphonic, naïve, child-like vocal melodies take over. "Max and Hax are here, right up in the tree, yeah!", while in the quieter, more minimal chorus it says, "All we need is worms, one for you and one for me." Oh, wait, what!? Read on, as Alexander Donat lets us in on a secret:
"Max and Hax are two young eagles in a short children's book my 7-year old daughter wrote. Her role models for the two were Stinkbomb & Ketchupface, a sister and her brother who are on extremely funny adventures trying to catch bad raccoons that constantly endanger the island they live on. It's a hilarious and brilliant British children's book I myself absolutely adore, it's full of clever humor and comicalness of the situation. Check out one or all six parts of it, written by John Dougherty."
The song can be found on Fir Cone Children's upcoming album, Waterslide At 7 A.M., (Blackjack Illuminist Records, October 30), an LP that focuses on what it feels like for children to grow up between the joys of life and the limitations COVID19 has brought with it.
As much as the album's title stands for an allegory of 2020, it does refer to an actual moment. Donat's then 6-year old kid had to perform a song she wrote with her father for a video clip that was made for a popular holiday parks brand in Europe. They had to meet at 7 A.M. in a waterpark before it officially opened to the visitors and the child was overwhelmed by the situation, dancing in a bathing suit, knee-deep in a swimming pool with cameras around her.
Facebook
Blackjack Illuminist Records Bandcamp