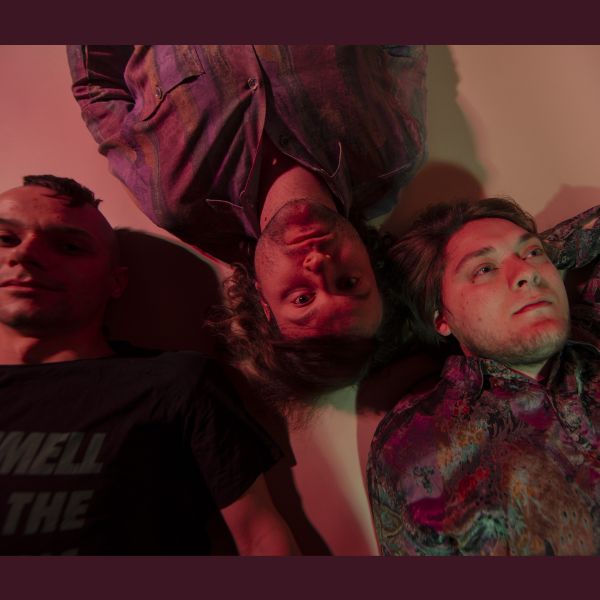 16 April 2019
Burning House – Photo Credit: Frankie Knight Photography
Hailing from Southampton, UK, Burning House have earned a reputation for generating chaos and euphoria; a performance for the end of time. They create compelling, adventurous songs inspired by the hallmarks of shoegaze while venturing beyond into alt-rock, psychedelia, and American indie music.
"Mimosa" is the first single release for the outfit since signing to Yumi And The Weather's label, MIOHMI, and it's another tantalizing, upfront taste of their full debut album, Anthropocene, which follows on the imprint this summer (look out for more album announcements soon).
The Big Takeover is thrilled to host the exclusive premiere of this immersive and incendiary song. Clocking in at almost seven minutes, the stirring "Mimosa" kicks off with a sense of tense anticipation before exploding into a raucous and noisy grunge atmosphere of bass-heavy suction and heavy, blazing guitar riffs, all laced with Aaron Mills' hazily flowing vocals.
Mills – the band's guitarist, singer, and songwriter – explains the inspiration behind the track: "It's a song about the fall of an empire. I wrote it as a big, self-conscious, opening rock song – the kind that would fill a stadium, but retaining ethereality; sonically a fusing of yin and yang/masculine and feminine. Lyrically, the song takes on themes of isolation, but also risk – the idea that risk is the only cure for isolation and despair. I was inspired by reading Dr Faustus by Christopher Marlowe, and I learned about how one can hypnotize through consistency and repetition, and then all of a sudden break the "spell" to dramatic effect."
"Mimosa" is out April 17th on all digital stores/streaming platforms.
Fuelled with emotion and bouts of nostalgia, alongside instrumentation of epic proportions, Burning House's full album is set to build on a promising swell of support and recognition over the last few years. Early airplay from the likes of BBC 6Music's Steve Lamacq adds to a growing fanbase for both their releases and live shows, which have included support slots for acts like Wire, Moon Duo, Shonen Knife, and Is Bliss.
TOUR DATES:
4th May – Maidstone Fringe Festival
22nd June – Leicester, w/ Dayflower
19th July – London, Sebright arms
20th July – Southampton, Heartbreakers
27th July – London, Battersea Arts Centre