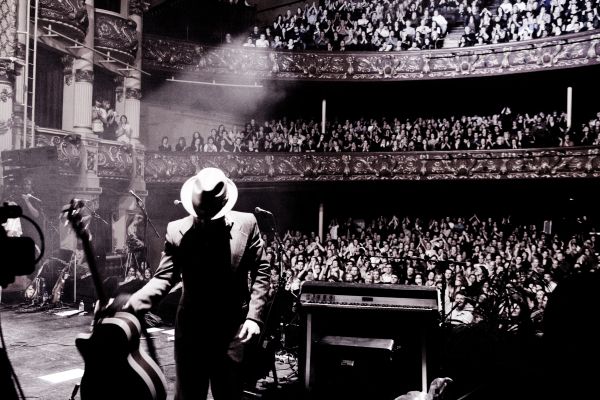 16 October 2019
Fly My Pretties – Photo courtesy of Fly My Pretties
Fly My Pretties is an ever-changing New Zealand collective that sprang to life in 2004. Focused on original music and artistic collaboration, the outfit was formed by The Black Seeds frontman Barnaby Weir and Mikee Tucker (of Loop Recordings) with the goal of assembling a range of musicians together to work together and record live on stage.
More a collective than a traditional band, Fly My Pretties have over the course of their history featured over 50 New Zealand musicians, including members of The Black Seeds, Fat Freddy's Drop, The Phoenix Foundation, Hollie Smith, Bailey Wiley, Trinity Roots, and more.
Since 2009, the collective has expanded on the concept of the project with the creation of a new show called A Story. Incorporating illustration, animation, and live visuals, A Story saw Fly My Pretties become the project it has been since – an audiovisual experience.
Since its inception, Fly My Pretties have recorded six live albums of original tracks. They latest offering, The Studio Recordings Part One, however, is a special treat. It's the first time some of the band's most beloved tracks have been recorded in a studio setting. The LP arrives on October 25th via Loop Recordings.
The Studio Recordings Part One showcases some of the massive back catalog in ways never before heard. Recorded at The Surgery Studios in Wellington, the album has been produced by Dr Lee Prebble, a part of Fly My Pretties since its inception, both as a musician, and as a producer/engineer.
As the title "Part One" indicates, this release represents a new step in the Fly My Pretties journey. Presenting some of their most-loved tracks as the fans have been wanting for over 15 years, all the while looking towards the future of the project.
The Big Takeover is elated to host the premiere of one such track, the ruminative and mellifluous psych-rock reverie "Quiet Girl." Subdued reverb guitar twang, softly shaken sandy percussion, darkly glowing keyboard notes, and a sedate drum pace create a dusky and hushed ambience.
Vocalist Samuel Flynn Scott gently and longingly sings the main vocal line, at times supported by lightly floating harmonies. A voice-like guitar line slides in toward the end of the track, hanging around like a contemplative and yearning spirit.
Flynn states, "It's a very strange procedure re-recording such an old song. Kind of like time travel. I was unsure how it would feel but getting in the studio with the old team was instantly a real buzz and it all felt brand new."