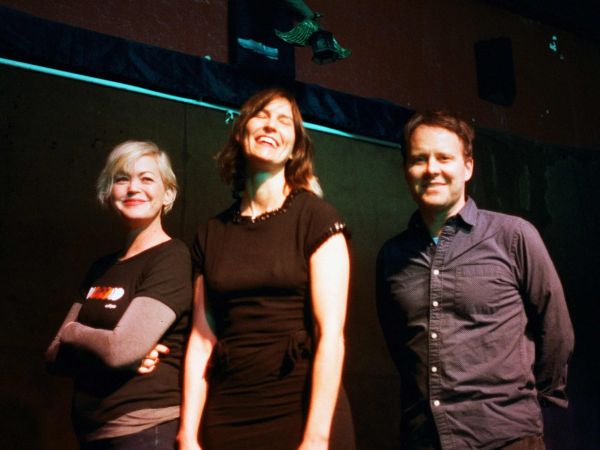 5 March 2019
Slowness – Photo Credit: Ben Wilson
This week is likely to be a big one for Slowness. You may already know them or you may not, but one thing is for sure – you should. Earlier we introduced their music to readers of our print magazine, noting that they are "one of the great undiscovereds in contemporary moody effects-driven rock… an absolute gorgeous beauty." We've also previously covered them live
The band has signed with the Raleigh-based label Schoolkids Records, through whom they will release their new album Berths. That long-play will be released in June, but we're in the advantageous position to be the first to present the single "Rose".
This release follows up their 2014 album How to Keep from Falling off a Mountain and 2013's album For Those Who Wish to See the Glass Half Full.
Like every past Slowness release, legendary producer Monte Vallier (Weekend, The Soft Moon, Wax Idols) sat at the helm for this album's production. Side A was engineered by Dave Voigt (Luna, John Cale, Yo La Tengo, Alex Chilton) at his Beyond Notes studio in Brooklyn, while Side B was done with Vallier at Ruminator Audio in San Francisco.
"Rose" blooms with positivity, simultaneously transitioning between classic Pink Floyd and classic Slowdive and Mojave 3. This song is there on all three fronts: the structure, the sound, and the wonder. Production-wise, one feels as if in a larger recording or rehearsal space or a very small personable venue, only with absolute silence on the part of the crowd.
The leisurely paced track is half shadowy Western plains at twilight and half drowsy dreamstate as it slowly unfurls with hypnotically spacey reverb guitar lines, an undulating bass line, and sedate drum beat. Vocals are drawn out and hang hazily in the air… A burgeoning guitar line eventually takes flight, winding and rising through the night sky like a continually burning ember.
While past Slowness releases have seen them pigeon-holed as shoegazers, they like to think of their own music as drone-pop. Indeed there is a mélange of genres and influences discernible here, including Slowdive, Spacemen 3, Low, Galaxie 500, and Spiritualized.
"This is a very personal record. It's taken a while to make for several reasons. When we started recording during the summer of 2014, we knew wanted a slower, heavier record to reflect the current American grain," says Geoffrey Scott.
"We tend to think everything's gone bad since the last election and sometimes forget that that election was 30 years in the making. So we set out to capture that, but then the whole concept probably took a turn when Julie and I decided to end our 11-year relationship as a couple. So the political became blurred with the personal, and the lyrics probably reflect that. In fact, all three members of Slowness were going through a major breakup during the making of this record."
Formed in 2008 in San Francisco, Julie Lynn and Geoffrey Scott started recording demos, crossing and tripping over wires from the pod to the four track recorder. In 2009, they enlisted Erik Karl on drums to help turn those demos into the songs that would become their 2011 debut EP Hopeless but Otherwise.
Drummer Christy Davis eventually entered the picture, bringing with her a stylistic influence and also 30+ years of experience playing with the likes of Beastie Boy Adam Horovitz, Rebecca Moore, and Reverend Billy.
"Christy's drumming helped change our sound significantly. She helped open everything up. With her we were able to record these songs as live, single takes more than we ever have before. This made Monte happy when it came to both recording and mixing, not because it made his life easier, but because he thought it served the music better," says Julie Lynn.
"Rose" will be released on April 3rd and will be available across online stores like iTunes and streaming platforms like Spotify, as well as on vinyl. The full Berths album will follow in early June.
CREDITS
Written by Julie Lynn and Geoffrey Scott
Lyrics by Geoffrey Scott
Geoffrey Scott – vocals, guitar and keys
Julie Lynn – vocals, bass and keys
Christy Davis – drums and additional vocals
Produced by Monte Vallier
Mastered by Carl Saff
Side A engineered by Dave Voigt at Beyond Notes Studo in Brooklyn
Side B engineered by Monte Vallier at Ruminator Audio in San Francisco
TRACK LIST
1. The Fall
2. Rose
3. Berlin
4. Breathe
5. Sand & Stone
6. Asunder
Now let's delve a bit into the band's rich and beautiful past:
SLOWNESS
Website
Bandcamp
Facebook
YouTube
SoundCloud
Twitter
Instagram
Spotify
iTunes
SCHOOLKIDS RECORDS
Website
Twitter
Facebook
Discogs
Instagram