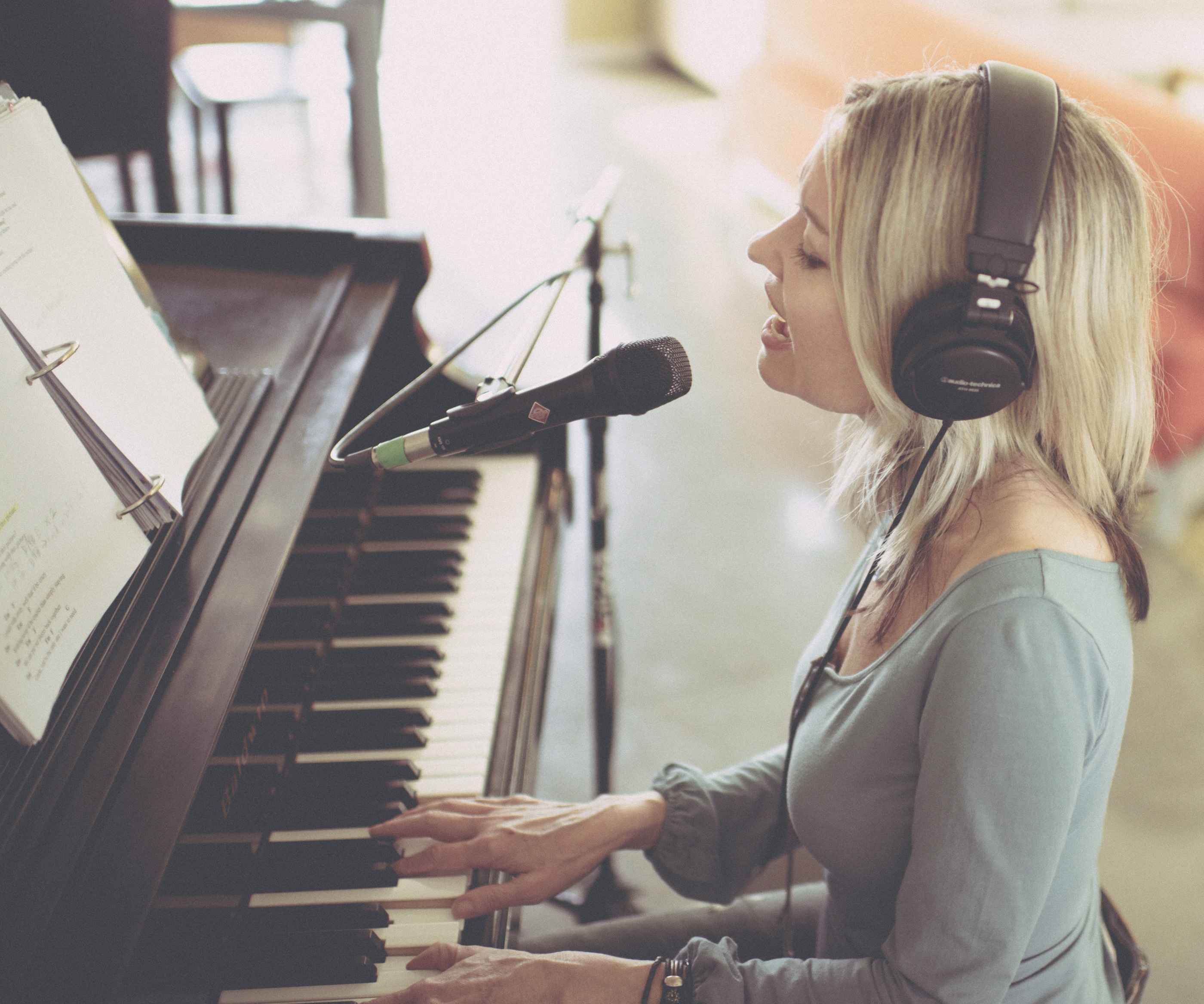 13 August 2022
Photo Credit: Ernie Sapiro
Seattle based songwriter and powerhouse vocalist Jen Ayers has a story to share, and we're here for it. When her husband and partner, Graham Ayers came to the realization they were trans over eight years ago, Jen knew she had some serious emotional deep-diving to do. With over two decades of experience as a vocalist, recording and performing artist, Ayers turned to her piano where SHe Said, a two-part concept album and live theatrical project, were born.
We're pleased to premiere the brand-new glam rock single from Jen Ayers, "Runaway", featuring Graham Ayers on vocals and co-write, with production by Seattle's quietly prolific guitarist/producer, Jeff Fielder (Mark Lanegan, Amy Ray, Nancy Wilson).
*Words from Jen about Runaway
"Runaway is the second single from my upcoming concept album and theatrical show SHe Said – a 21st century love story that explores the impact of gender identity on a family and couple who transition together. The tune, co-written with and featuring my partner Graham Ayers on lead vocals, is a love letter to the self via glam-rock infused musings, crunchy guitars, a driving beat and a deer in the headlights back-up singer (me). Two minutes of garage punky perfection."
Q&A:
You've been working in the music industry for quite a while now. Having been a member of a touring and recording band, a frontwoman in various cover and tribute bands, a piano and voice instructor, a dinner theater cabaret vocalist/actress, and now releasing a concept album/theatrical performance solo project, we're certain you've picked up some incredible experiences along the way. We've put together a few questions for you, to help our readers learn more about you and your art.
What keeps you motivated and inspired to continue trying new ways of expressing yourself? Are there any new forms of performance you haven't tried yet that you'd like to try one day?
The human condition keeps me inspired. I joke in the show that with regards to songwriting, "when shit goes wrong, I'm prolific." Haha. It's true. The former social worker in me is often motivated to create as a way of helping to process the things I don't understand or have trouble dealing with – and hopefully bring some comfort to others through those creations. I also love performing, creating characters, playing dress up, and pushing myself to become a better singer, a better pianist, a better channeler of energy with an audience. I love collaborating and surrounding myself with other creatives. I learn from them and grow artistically as a result.
I try to trust my intuition with regards to new projects or things that feel scary – and walk towards them even if I'm not always sure why — because I know they will ultimately challenge me and make me a better artist. Trusting my gut has always served me well and has led to a fascinating journey filled with so many cool opportunities. It's how I ended up singing for fabulous burlesque performer acts AND joining the circus!
And as a songwriter/musician person, I found that I could deepen my storytelling by going beyond the writing and recording of my songs to creating a stage show that brought together all the different artistic expressions I'd explored over the years: acting, dance, cirque.
What would I like to try one day? I've done some light cirque while singing at Teatro ZinZanni but I'd love to be that full on singing acrobat in the sky someday. I'd also like to write a book.
Do you have a favorite or preferred creative outlet, or do you find that all of the various ways you create and perform feed each other?
They all feed each other and satisfy various artistic needs. I love being able to wander in and out of different worlds. I might spend 6 months performing 5 nights a week at the circus. And then spend the next 6 months writing songs and demoing them in my basement. I love the balance of that and the freedom it gives me.
Working artists tend to be fairly self-driven. Many performance artists talk about the euphoric feeling, or "flow" that happens when they're in the act of performing. How do you keep yourself motivated to tackle the "work" side of being a musician and performer, ie, the hours of practice, learning new material, prepping for a show, recording, etc?
I'm one of those weird artistic people who is really good with details and organization. Sometimes I wish I wasn't so I could live in the blissful artsy place more often. But the upside is that I get stuff done. The SHe Said project has been demanding of my time and energy. I love it. But as things ramp up with the album release and the live shows hitting the stage soon, I make sure to devote some time every day to the business side of things AND some time to the artistic side (memorizing lines, practicing songs, revising the script etc. I'm super motivated because I'm so thrilled to be birthing this project and finally sharing it all so my adrenaline has been pumping extra hard. I'm also a perfectionist so my challenge is to sometimes STOP working on my art to make time for other things and keep that adrenaline from wiping me completely out. Having some live performances sprinkled over the past couple months has been super rejuvenating – fuel to keep myself going, bring me to my happy place and not burn out.
There's a lot of talk about mental health at this unprecedented point we're experiencing of widespread political divide, the soaring cost of living, rising levels of anxiety, climate change and war. What are some ways you keep yourself mentally healthy so you can focus on continuing to create good art?
I walk. I do my best creative brainstorming while walking – walking is my meditation. I also do pilates a few times a week which keeps me strong and centered. I paddle board in the summer. Water is grounding and healing for me. I try to limit my social media time and schedule time regularly with friends in person to connect.
How has the process of creating SHe Said helped you navigate the transition you and your husband Graham Ayers, (featured in Runaway) went through as parents and partners? Was it hard to share the project with Graham and others? What do you hope folks will take away from the live theatrical performance aspect of the project?
As I mentioned earlier, I write songs to cope. I write songs to make sense of what I don't understand. I sorted out a lot of feelings on my piano. Asked a lot of questions. And eventually found answers. The process of writing the songs for this project was completely cathartic. My therapy. And my songs helped inform the writing of the SHe Said script. My dramaturg/director, Daryle Conners and I joke that the hardest part about writing the script for SHe Said was that I was living it while we were creating it. There were times when I needed to step away and just let life unfold.
Graham has been part of the process from Day 1. Graham is my biggest champion and has been there every step of the way – helping with song production ideas and script brainstorms. Graham's voice is strong in this project – behind the scenes and literally on two of the songs on the album.
SHe Said is our love story, but explores many universal themes: partnership, compromise, individuation, identity, change, family dynamics. It also explores what it means to be transgender and to love someone who identifies outside of cisgender norms. I hope people walk away from the show having learned something new about gender identity and the meaning of love.
Runaway features the lead vocals of your husband and partner, Graham Ayers. It's interesting that you chose a single featuring the vocals of someone other than yourself to lead the album release with. Can you tell us a little bit about what led you to make this decision?
While SHe Said is our story from my point of view. Graham's voice and presence is central to the telling of it and is strong in the show and on the album for that reason.
Graham and I have a long history of writing and playing music together as well. Me on piano. Graham on guitar. The first single WHISTLE BLOWER is piano-centric/my voice. It seemed only right to have the second single be RUNAWAY: guitar-centric/Graham's voice.
Should we bring a tissue to the live show? :) No, but seriously, are we gonna laugh or cry or a little bit of all of the above?
A little bit of all of the above! At least that's the plan!
You can catch Jen Ayers perform SHe Said in its entirety, with her performance partner Marc Kenison (aka Seattle's celebrated gender-bending neo-burlesque dancer Waxie Moon), The Moth style monologues and live music from Jen at a grand piano, with a backing band consisting of some of Seattle's finest including: Kathy Moore, R.L. Heyer, Melissa Montalto, Rebecca Young and Geoff Reading, October 6, 7, 8 and 9 at the Broadway Performance Hall. Tickets can be purchased in advance here.
FOLLOW JEN AYERS HERE