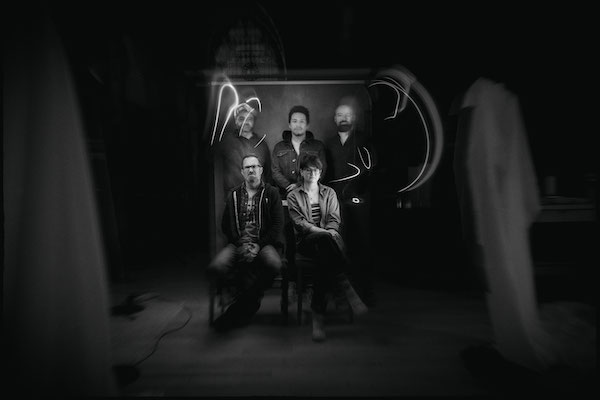 28 January 2022
Lowlight – Photo Credit: Lowlight
Coming off their wildly experimental and moody full-length Strange Light, indie-rockers Lowlight exclusively premiere a new single today with the Big Takeover in support of their follow-up album, They Know. The upcoming LP by the hip-hop-inflected New Jersey quartet is set to release in February on Mint 400 Records.
The new song, "Samantha," describes a thread between two disparate experiences: the joy of a first kiss and the thud of loss. The track features a delicate arrangement that pulls the listener in as it weaves through the story, ultimately climbing to a lush and powerful hook.
"Samantha" also introduces new singer and lyricist John Gleason, who officially joined the band this year.
"The song is about being knocked down on your ass mentally and physically," Gleason said. "You will get back up, but never the same way. The way you first felt the world is gone with the loss. Further exhilarating experiences will be that much less felt."
Drummer Colin Ryan added: "When we were first thinking about new material for this record, we combed through our trusty drive of rough sketches and ideas. What would later become 'Samantha' was in there, a phone recording of [keyboardist/vocalist] Dana [Sellers] laying down some chords. What struck me immediately was how the chords flowed seamlessly into one another with no sense of beginning or end. It had this perpetual, rolling feeling that was really interesting. We tried and hopefully succeeded in keeping that feel intact as we all added our parts."
Ryan continued: "I knew we had something even before John added vocals, but his heartful lyrics and delivery brought it exactly where it needed to go. We asked him to join us as a 'guest artist' for this song, and he has since joined the band full-time. We're pumped to have him! 'Samantha' is the first page of a new chapter for Lowlight. … We hope you enjoy [it]."
Check out "Samantha" below and stay tuned for They Know, coming February 25 via Mint 400 Records.
For more on Lowlight, check out their Instagram page.