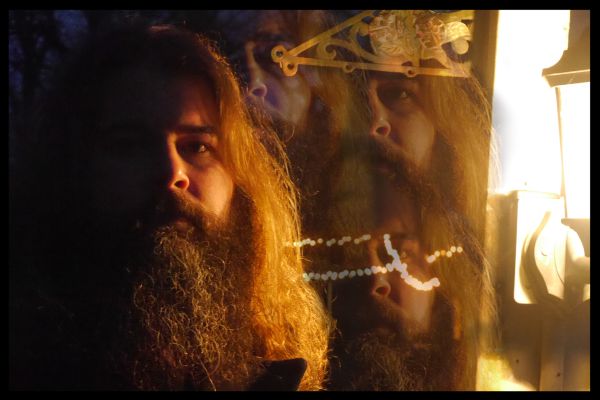 14 December 2018
Zach Gabbard of Sunday Fed Creek Birds – Photo Credit: Erin Volk Gabbard
Sunday Fed Creek Birds is a new collaborative project fronted by Zachary Gabbard of Buffalo Killers. The premise of the project is bringing different musicians together for a song and a feast hosted at his Howler Hills Farm studio.
A debut single, "Run to Waste" b/w "Oh My God", that was recorded with All Seeing Eyes (Johnny Walker of Soledad Brothers), Farnsworth, and Beth Harris (The Hiders / Erika Wennerstrom), has been released.
The second single, "Say It's OK" (b/w "July 5, 1995"), arrives today, and The Big Takeover is thrilled to host its premiere.
Zach Gabbard (guitar, bass, lead vocals) recorded the song with Alicia Grodecki of Moira (electric piano, backing vocals), Mike Montgomery of R. Ring and Ampline (signature embellishments), with his brother, Andy Gabbard, also of Buffalo Killers, on lead guitar, and Patrick Hague and Aaron Hardy on drums and percussion respectively.
The two tracks were recorded at Howler Hills Farm and Candyland Recording Studio.
"Say It's OK" is a sonically laid-back track that flows with a mellow, retro vibe that belies its pointed and socio-politically relevant lyrics. It segues from an upbeat, slowly trotting pace to a dreamier, extended atmosphere.
The song comes across as a bittersweet rumination upon the current state of duress in the U.S., with Zach Gabbard wryly singing about an, "Alpha male on acid / You can't make this sh*t up.", then going on to hope for an, "American Dream-catcher that stands up / and stomps out all the hate."
Near the end of the reverie, a subdued Zach murmurs, "Don't let 'em get you down", trailing off amid glowing electric piano notes, right before a poignant rock guitar line finishes off the track.
Zach Gabbard gives some insight into his new collaboration, explaining, "Sunday Fed Creek Birds was developed through my desire to grow as an artist. Over the course of my career, I have been lucky to meet many great musicians and I thought this would be my opportunity to play with them and spend time and create together. It helps that we have a studio at the farm. We try eat together after each session. We've made some vegetable soup, had some Eli's BBQ support with catering, and whatever else mama is cooking up."
"I'm releasing the songs as they are completed. I just finished "Say It's OK" last week.", Zach Gabbard concludes, "I'm just doing things as I want to do them. It's fun and loose and I look forwarding to creating more songs with more friends."
Buffalo Killers Facebook
SofaBurn Records Website
Howler Hills Farm Website