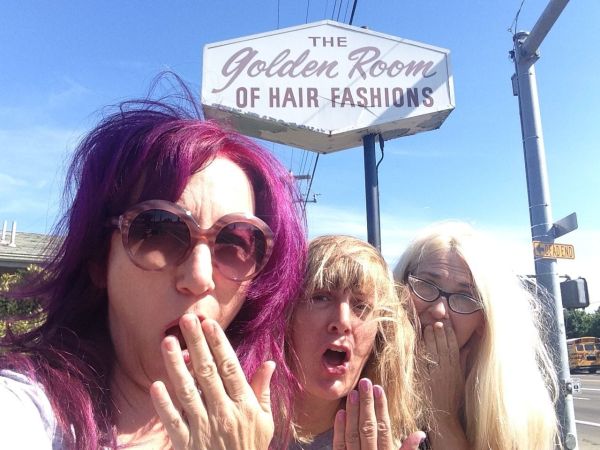 23 July 2020
The Neptunas – Photo courtesy of The Neptunas
Veteran LA-based surf-pop/garage-rock band The Neptunas are resurfacing with their new album, Mermaid A Go Go, on September 24th of this year (vinyl to come in 2021). The LP was produced by Danny Amis of Los Straitjackets and features liner notes from Ben Vaughn.
The Neptunas (Pamita on bass, Leslita on guitar, and Laura Bethita on drums) know how to have fun. One of the first all-girl garage-surf bands, they put out two records on the Sympathy For The Record Industry label in the '90s, giving them a unique voice in the world of surf music.
Scratch and Surf was the first album, and their second album, Let Them Eat Tuna depicts the trio as mermaids with Marie Antoinette wigs and with Pamita showing her 8-months pregnant belly.
"We are definitely not your run–of-the-mill surf and garage band," Pamita describes. "We still embody that spirit of punk rock, garage rock, and wild and free fun that rock n' roll was built on."
In 2014 the band was approached by the Breeders asking if they were still playing and would like to open for them on a West Coast tour. The Neptunas proceeded to relearn their old songs and put together a tight set. "We found out later that the reason we were asked is because Kim Deal loved us so much and asked for us specifically," recounts Leslita.
The Neptunas had been friends with the band Los Straitjackets for many years (they used to open for them) and had kept in touch with Danny Amis when he moved from Santa Monica to Mexico.
In 2017, Amis invited them down to Mexico City to play the huge surf and garage rock festival, Wild-O Fest. Taking place in a large arena that holds thousands of surf and garage rock fans, the ladies won them over when they put on Lucha Libre masks at the end of their set and Amis came out to play with them.
After they got home from that trip, they couldn't get the fun of Mexico City off of their minds. The result is Mermaid A Go Go, a 12-song album with 3 bonus tracks. Half are instrumentals and half include vocals, and there are a few covers, including The Kinks' "Til the End of the Day" and an instrumental cover, "The Lonely Bull", that was a big hit for The Tijuana Brass and The Ventures.
Pamita relates, "[Danny] created a sound that is completely identifiable—a la Phil Spector. That kind of '60s BIG production. He added things like horns and percussion and made the songs so unique. They still have that charming simplicity, but with layers of delicious dimension that brings so much more to our little trio."
Big Takeover is pleased to host the premiere of surf-popper "Secret of the Sea," which was inspired by a '60s beauty creme and is about a budding romance. The brisk and buoyant number that swims in layered harmonies, jingling and jangling percussion, ringing guitar lines, and peppy drum beats.
The jauntily sung lyrics are pure retro and beach-pop lingo, with "Dippity Do" rhyming with [Vidal] "Sassoon", and the sprightly evocation of a day at the beach filled with ocean waves, the boardwalk, and picnics on the sand.