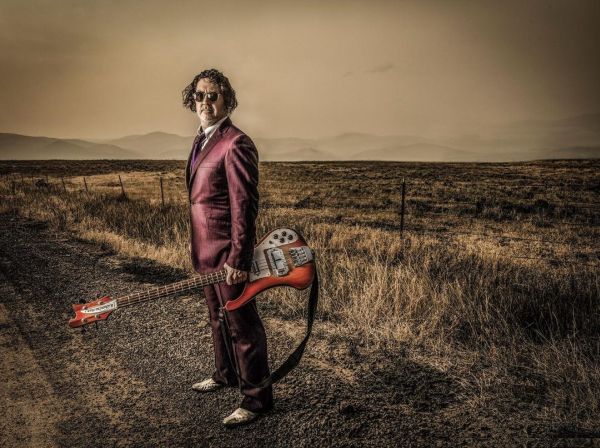 3 March 2022
Catnyp – Photo Credit: Bob O' Boyle
Spurred on by a quip from an ex-girlfriend, and Paul McCartney's McCartney III (2020), Henderson K. Shatner – Catnyp songwriter, singer, and multi-instrumentalist – created his most fearless platter to date, Catnyp IIII, out this spring. On this 14-song collection of intoxicating indie-rock treats, the Missoula, Montana-based artist explores the outer stratosphere of his eccentric modern classic sensibility.
"My ex provided some unsolicited advice that set the tone for this album," Shatner shares with a good-natured laugh. "She said 'get back to your quirk-pop rock roots.'" He complied by peeling back the layers of production and instrumentation he explored on previous releases. For the most part, Catnyp IIII is viscerally lean—just one guitar, bass, drums, and vocals. It has the rawness and energy of a demo, but with the high-fidelity and clarity of a polished studio production. It's a best-of-both-worlds approach guided by the golden touch of multi-platinum mixer engineer Brian Reeves (U2, Miley Cyrus, Elton John).
The Macca influence came from the self-contained vibe of his recent album in which the former Beatle played all the instruments. Taking a cue from this McCartney feat, Shatner—already an accomplished bassist and guitarist—learned drums in a couple of months, and then recorded 14 instrumentals. Next, he set aside 4 sequential days to write lyrics and melodies, before tracking vocals, often tearing through 4-5 songs in a day.
"It was scary staring at a blank screen with a cup of coffee, trying to write lyrics to so many instrumentals in such a short amount of time. It definitely gave the album a certain cohesiveness that might not be there if everything had been written and recorded in a more typically organic manner," Shatner says. "It also allowed for some fearless experimentation in vocal styles."
Shatner is a dynamic and melody-centric songwriter who carefully crafts each vocal line, and, like McCartney, pens lyrical basslines. He also impactfully uses loud-and-soft contrasts, recalling the explosive musicality of the Pixies and Nirvana. This penchant for juxtaposition plays out throughout his musicality as his lyrics, and his instrumentation, are rife with layers of meaning and oomph. Shatner's songwriting is informed by 1990s alt-rock, Brit-pop, new wave and dark wave, and the timeless rock n' roll of the Beatles and the Stones. To date, Catnyp has released The Black Cat Trilogy of records issued yearly from 2018 until 2020.
Shatner cut his teeth in the Denver music scene in the late 1990s before working and living internationally with bands in Australia, Sweden, and the UK. While across the pond, he formed the seminal surf-goth band, Brand Violet, as bass player and songwriter. The band were signed to iconic Some Bizarre Records (Depeche Mode, The The, Soft Cell).
Catnyp was formed when Shatner returned stateside in 2015. The group features Shatner as primary songwriter, singer, and multi-instrumentalist, but it also boasts a fluid membership of trusted studio and onstage musicians. Along for the ride on Catnyp IIII — on tracks "Big Sky" and "No Hope" — is Emily Dolan Davies on drums (Bryan Ferry, The Darkness, Tricky, The Hours), as well as often-featured Catnyp collaborator Ian Weckler on guitar on the tracks "Sharp White Teeth," "Houdini" and "Mainstreaming."
Catnyp IIII tears open with the jagged alt-rock of "Big Sky," and then rockets us into a series of thrilling adventures, including checking out grisly murder scenes; jetting to Berlin; reveling in the joys of dysfunctional high school get-togethers; intriguing encounters with a transgendered character; and vibing deep at old-school hip-hop parties. By the end of exhilarating ride, we find ourselves back where we started: perhaps in a Montana bar with a narrator quietly observing the birds out the window. Through it all, Shatner is a shapeshifting narrator, and his vocal stylings channel Paul McCartney, Debbie Harry, David Bowie, Jack White, Nick Cave, Chris Isaak, Damon Albarn, and Robert Plant in his quest to find the right voice for each song.
Big Takeover is pleased to host the premiere of new single, tuneful pop-rocker, "Sharp White Teeth," is Pixies-style arty and playful.
The track takes the album full circle from the rambunctious energy of Big Sky through the various romantic and emotional entanglements of the rest of the album to a more traditional bar-room rock song. Against rockabilly-leaning guitar riffs and punchy percussion, "Sharp White Teeth" chronicles the fading allure of the one night stand and the inevitable temptation when people, music and alcohol are involved.
Facebook
Instagram
Twitter
Website