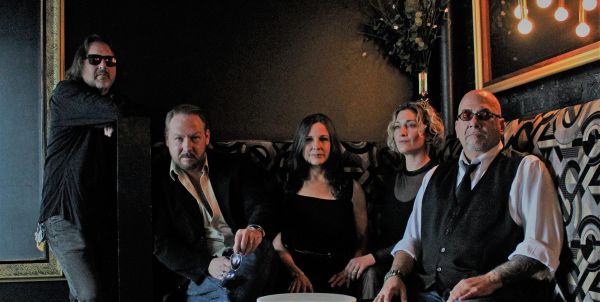 15 June 2021
The Mystery Plan – Photo Credit: Daniel Coston
Several years ago, we had the pleasure of introducing you to the Zsa Zsa album from Charlotte, North Carolina-based indie pop collective The Mystery Plan, co-produced by the band's frontman Jason Herring and a legendary alternative rock kingmaker among producers – John Fryer.
Today we have the pleasure of introducing you to their latest music output, which represents a surprising but very welcome turn in direction from the sound spectrum they usually espouse.
Their new single 'Silver Lining' is the first taster of their forthcoming album You Also Have Eyes – what a fantastic offering this is. Featured guest Big Supreme shines brightly here against the backdrop of brilliant grooving trip-hop / hip-hop-laden electronic backbeats and well-placed angelic vocals, creating the perfect pillow of sound to lay this gem upon. Well done to Jason Herring and the gang on this masterpiece!
This album also involves co-production by Fryer and Herring, as well as Rob Tavaglione and will be released via in mid-July via boutique label Ten Millimeter Omega Recordings.
The story behind lead track 'Silver Lining' is one of extended family – a musical family. Featuring Charlotte-based rapper Big Supreme (aka Chris Jones) on vocals, this song – written during the pandemic – is an ode to looking at the bright side of things. Big Surpreme has been on the scene since the 1990s, getting his start by winning rap battles on the local Hip-Hop station for months and months, holding the record for the longest run on that station.
"Sitting down to write 'Silver Lining', I knew I wanted to be upbeat and optimistic. Since we were in the middle of a pandemic, I wasn't really in the place to do so lyrically. I've known Big Supreme for decades now, and of always loved his words and his flow. He is the younger brother of Charlotte DJ/producer That Guy Smitty, who I am also in the group Muchacho with," says Jason Herring.
"So I asked him if he would like to write something and record with us, and he said yes. I let him know, kind of, how I was feeling while writing the music. A few weeks later he sent me recordings of what he did with 'Silver Lining'. I loved it. He knew exactly what the song was, Sincere Appreciation and hopefulness. Hopefully we'll get to work together again. He's quite amazing."
The band's sixth full-length album, You Also Have Eyes is a compilation of select tracks from their latest few records, including 'We All Get Down', which was co-written, produced and mixed by Ian Masters (Pale Saints, Spoonfed Hybrid, ESP Summer), as well as three new songs exclusive to this CD and digital releases – 'Silver Lining, 'Weird Things Humans Do', and the Peter Anderson (the Ocean Blue) mix of 'Wonder Why'.
This album also involves contributions by Micah Gaugh (The Veldt / Apollo Heights / Dope Sagittarius), Rob Tavaglione, and Snap Nation.
Formed in Charlotte, North Carolina in 2010, The Mystery Plan is comprised of Jason Herring, Amy Herring, Jefferson Chester, Otis Hughes, and Patty McLaughlin. To date, they've managed to release 11 EPs and LPs combined.
As of June 18, 'Silver Lining' will be available digitally across streaming platforms, but come July 16, the full You Also Have Eyes LP will be released on vinyl and CD, as well as digitally, with the CD and digital releases essentially being expanded editions. It can already be pre-ordered via Bandcamp and pre-saved HERE
SINGLE CREDITS
Produced by Jason Herring and Rob Tavaglione
Mixed by Justin Aswell
Vocals by Big Supreme
Music by Jason Herring
Percussion by Jefferson Chester
Recorded at Bulls Hit Records and Catalyst Recording, Charlotte
TRACK LIST (digital and CD only)
01 Electric Love
02 The Golden Moon and Silvery Sea
03 We All Get Down (Ian Masters mix)
04 Midnight Trail Ride
05 Al Gore Rhythms
06 Silver Lining
07 Wonder Why
08 Those Stars
09 Always
10 Long Way To Heaven
11 Wonder Why (Peter Anderson mix)
12 Before You Go
13 Weird Things People Do
Also enjoy several of the other tracks from the album in audio-video mode right here:
The Mystery Plan
Facebook
Twitter
SoundCloud
YouTube
Spotify
Reverbnation
Big Supreme
Facebook
Twitter
SoundCloud
Reverbnation