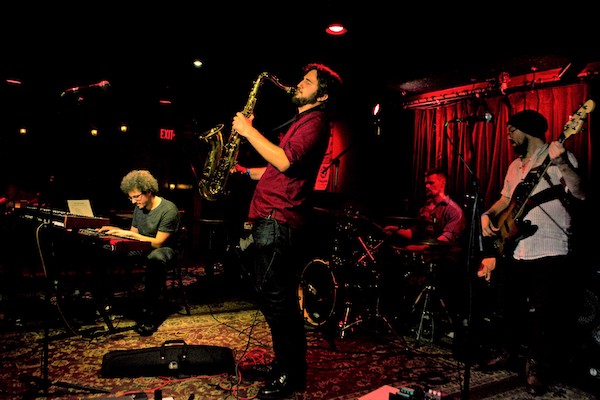 22 March 2022
City of Four – Photo Credit: City of Four
Along with the onslaught of new albums recorded during COVID lockdowns are a slew of apt titles referencing the pandemic and the experience of surviving it. Boston jazz scene staples City of Four are in contention for best COVID LP name with Where Were We?
Due to drop Friday, Where Were We? might reference the pandemic, but its ebullient, smooth sound resembles anything but fear and frustration. Rather, City of Four's new LP offers a cornucopia of jazz melodies, bubbly passages and brassy sound with the freshness of a pitch-perfect improv sesh.
Today, the Big Takeover is excited to present "So I've Been Told," one of the tracks from the record. Check it out here:
City of Four will support the album with a week of shows in the New York, Pennsylvania and New Jersey areas, including Shrine in Harlem, in April.
The band has quickly become one of the shining stars on New Jersey label Mint 400 Records jazz sub-label Raining Music, which showcases everything from classic jazz to soul to the more avant-garde jazz acts of the Northeast.
Below is what the members of City of Four had to say about "So I've Been Told."
Keyboard player Christian "Cat" Tremblay, who composed the song, said: " 'So I've Been Told' started out in late 2019 as a beat I made using my newly acquired Sequential Prophet Rev 2. I had incorporated synthesizers in my music before, but with the Prophet, I was suddenly able to perform more chordal parts and experiment with different timbres and textures. The plucky synth sound I used on the demo, which essentially inspired the idea, is very similar to the pluck synth patch I subsequently built to use on the record and in live shows. Since the original beat riff was fairly slow, I reimagined it as a heavy breakdown section in half time; the more upbeat sections expanded around that initial idea, and they frame the breakdown nicely so that it arrives with impact."
Bassist Blain Crawford weighed in by saying, "Almost more than any other song on the album, this song feels like an introduction to the four personalities present. I think it makes the perfect first song on the album because by the time you get through your first listen, you know a lot about what all four of us are bringing to the table as players. It really packs a ton of information into a short runtime, and it's a ton of fun to play, every time."
Drummer Steve Wilkinson also opined about "So I've Been Told": "I love the two different time feels in this song, and how the drums are interactively unleashed during the halftime sections. When we play the tune live, those are the spots where I really turn up the energy behind the kit. The song has a lot of intricacy and nuance throughout, and this attention to detail is something that always comes to mind first when I think of Christian's compositional style. It's a lot of fun bringing his visions to life."
Last but not least, saxophonist Mike Caudill shared: "I don't know anyone who writes quite like Christian. In the time I've known him, he's always brought in colorful and unique tunes that have really special melodies and chord motion to them. I feel like playing his tunes over the years has challenged me as a saxophonist and improviser in the best of ways. 'So I've Been Told' goes over really well in live situations, and I think the breakdown section is particularly satisfying to listeners."
For more on City of Four, check out the band's website.