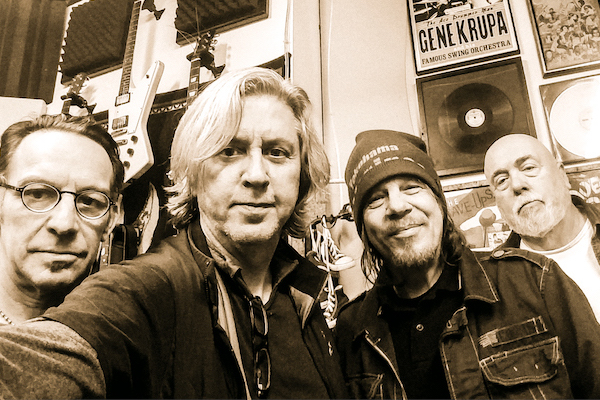 4 February 2022
The Rave-Ups – Photo Credit: Tommy Blatnik
Pop vets ABBA made headlines late last year with their first new album in 40 years — and today, proto-Americana rockers the Rave-Ups are accomplishing a similar feat with the release of Tomorrow (Omnivore Recordings), a reunion record that comes 31 years after their last album dropped.
The Rave-Ups were introduced to the world when Molly Ringwald, a friend of lead singer Jimmer Podrasky (he dated her sister Beth), had their name scratched onto a notebook in John Hughes' Sixteen Candles. The band then appeared as themselves in Pretty in Pink, performing "Rave-Up, Shut-Up" and "Positively Lost Me," a track that landed on Rhino's compilation Just Can't Get Enough: New Wave Hits of the '80s.
After releasing Chance in 1990, Podrasky left the Rave-Ups to raise the son after whom the album was named. They played some dates around the 2016 reissue of Town + Country but didn't go into the studio until recently to record Tomorrow.
Today, the Big Takeover delivers a stream of the first song on the new record, "So, You Wanna Know the Truth?" Check it out right here:
Podrasky said, "We may say that we want to know the truth, but if and/or when we learn it, we just might regret knowing it at all."
He continued: "In these 'interesting' times, our access to information, misinformation, disinformation and everything in-between grows day after day, hour by hour. It's unstoppable. And dangerous. Some folks don't want to face facts. And because of that, they fabricate their own truths to fit their particular agenda, be it on the left or on the right. There's plenty of guilt to go around. We all live, work and play in a profoundly divided culture."
Podrasky added that Rave-Ups guitarist Terry Wilson originated the song on his own.
"Musically, he already had the vision and the vibe for the song, sending me the demo of the basic tracks," according to Podrasky. "I instantly loved it, since it was certainly in-keeping with the Rave-Ups' 'cowpunk' (still dislike that term) side.
"I wanted to write lyrics that matched its musical intensity, and I felt comfortable commenting satirically on the present state of a troubled world," Podrasky said. "Within an hour, I sang the words into my phone and sent them off to Terry. His positive response meant we were on the right track. [Drummer] Tim [Jimenez] and [bassist] Tom [Blatnik] later propelled the rhythm section with complete authority, but it's Terry's blistering guitar work that really drives it all home for me. There's a damn good reason why it's the lead-off track for the Tomorrow album: It rocks! In an off-kilter world, I'd say that's good enough."