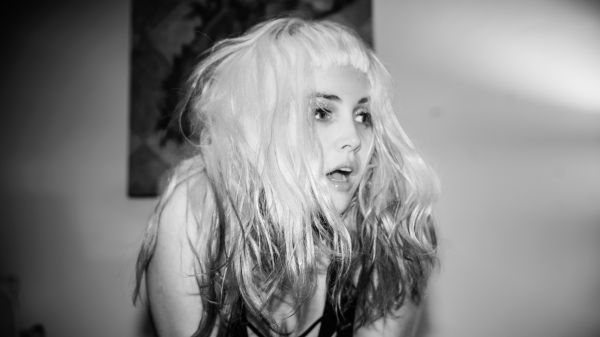 25 September 2018
Elizabeth Le Fey of Globelamp – Photo Credit: Elva Lexa
"Sorceress of Your Soul" is the first track from Elizabeth Le Fey's (AKA Globelamp) upcoming new album Romantic Cancer, her most stripped-down album to date. The album is being released on CD, digital download, and streaming services October 12th by Nefarious Industries.
In 2016, Wichita Records released The Orange Glow, Le Fey's 2nd full length album. 'The Orange Glow' was a certain concept to Le Fey, a deceptively alluring light along the lines of "all that glitters is not gold."
This time around Le Fey struck East to record a more direct third album focusing on healing. Romantic Cancer was recorded in the Catskill Mountains near picturesque Woodstock, NY, and the setting served as a break from some of the social artifice in the L.A. scene. The collection of songs are a vibrant outburst of acoustic emo and even pop influences co-existing seamlessly with the blend of indie, Sixties, and the faerie vibes she is known for.
Romantic Cancer was recorded in December of 2017 at Bohemesphere Studios by engineer Jay Andersen and features contributions from James Felice (The Felice Brothers, Conor Oberst), and singer/writer Morgan Ywain Evans (Walking Bombs, Metalriot.com).
The Big Takeover is pleased to premiere "Sorceress of Your Soul", a spellbinding dream-folk storyteller. The first half of the tune is more subdued, imbued with acoustic guitar strum, wavering vintage piano notes, and the occasional pull of accordion notes that sounds like warm strings. The second half swells more intensely with rising accordion notes and briskly struck guitar lines, while throughout, Le Fey's expressive, light, and fluttering vocals move from dreamy to sharp and back again.
Le Fey explains, "I had a pivotal moment at a Conor Oberst show in Pioneer Town that inspired me to become the musical project Globelamp. At that show, The Felice Brothers opened for Conor Oberst, and played with him during his set as the backing band. Never in my wildest dreams did I think that at some point in my life would I be recording my own music featuring one of the musicians on the stage that night."
In conclusion, Le Fey states, "It was a dream to be able to work with James Felice on this album and this is just one of the few songs he plays accordion on. I gave him complete creative freedom because I trusted his musical abilities so much. It was amazing how quickly he made up his parts for the song. It fell together perfectly as though it was meant to be."
Preorders:
Nefarious Industries Website
Globelamp Bandcamp
Globelamp profile at Nefarious Industries
Facebook
Instagram
Bandcamp