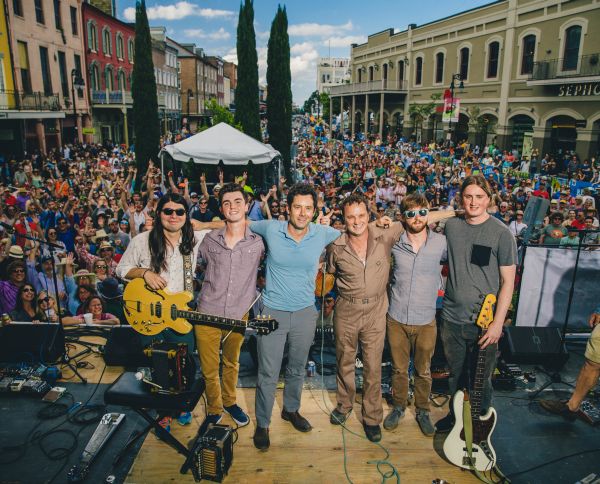 27 August 2019
Lost Bayou Ramblers – Photo Credit: Zack Smith
Lost Bayou Ramblers is a Grammy-winning, progressive/traditional Cajun band who are celebrating their 20th anniversary as a group with the release of a deluxe DVD/CD package comprising the On Va Continuer! documentary and Asteur live album. There will also be a separate vinyl release featuring its own unique artwork. These are all being released on September 13th via Lost Bayou Records.
The documentary's title "On Va Continuer" refers to Lost Bayou Ramblers' ongoing commitment to performing in Cajun French, propagating French as a living language in Louisiana. Additionally, it's a reference to their preserving and promoting the unique features and hand-crafting of the Cajun accordion and support for local fiddle and T' Fer makers.
On Va Continuer! was directed by Bruno Doria and produced by Lizzie Guitreau of Worklight Pictures. The film documents the writing and recording of the band's Kalenda album, subsequent touring and follows them to New York and the 2018 Grammy Awards where they won for Best Regional Roots Music Album.
Lost Bayou Ramblers' upcoming album Asteur, which is Cajun French for "right now" or "at this moment" – and that's what this collection is – a glimpse of Lost Bayou Ramblers 20 years on, recorded at venues they regularly perform at in New Orleans. There's the Maple Leaf Bar, where band founders Andre and Louis Michot's father and uncles played 30 years ago with his band Les Freres Michot, Tipitina's, One Eyed Jacks, d.b.a., Preservation Hall, and Music Box.
Asteur was produced by the Ramblers' Eric Heigle (Soul Rebels, Arcade Fire), and engineered by Emily Eck. The vinyl edition features one track recorded at each of these venues respectively. The CD will include all these tracks, plus three additional live recordings, as well as five from the documentary's soundtrack.
The Big Takeover is excited to host the premiere of original track and long-time audience favorite "Steh." The band deliver a lively rendition where the whoops and hollers of the crowd can be heard throughout the track as they take part in the rousing Cajun spirit of the song. A thick stew of English and Cajun French flows from the lead singer and fiddler Louis Michot, while the punchy, pumpin' drum beat is shadowed by a deep bass line bounce and supported by zippy accordion pulls and bashed cymbals.
Louis Michot is joined by brother Andre (accordion and lapsteel), Bryan Webre (electric bass), Jonny Campos (electric guitar), Eric Heigle (acoustic guitar and drums), and Kirkland Middleton (drums and percussion).
TOUR DATES
Sept 13 at One Eyed Jacks (OFFICIAL RELEASE PARTY + screening of On Va Continuer)
Sept 20 at Bayou Teche Brewing (+ screening of On Va Continuer)
Sept 27 at Muncie Indiana Three Trails Concert
Sept 28 at Acadiana Center for the Arts, Lafayette (+ screening of On Va Continuer)
Oct 11 at Blue Moon Saloon, Lafayette
Oct 13 at Festivals Acadiens et Creoles
Nov 9 at Music Box, New Orleans + screening of On Va Continuer)
Nov 16 at d.b.a. New Orleans
Dec 13 at Tipitina's
Dec 14 at The Pearl, Lafayette