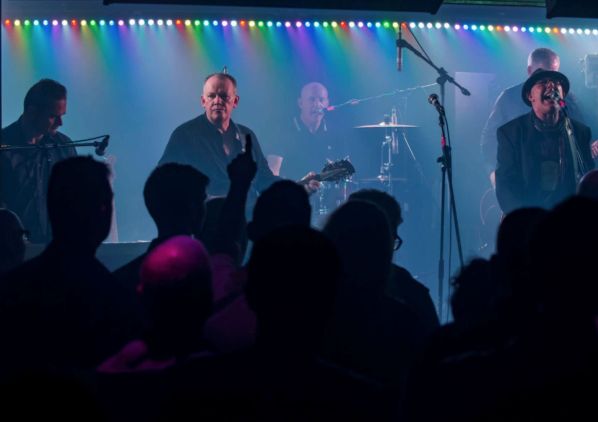 19 March 2019
The Jasmine Minks – live – Photo Credit: Matt Jolly
Just ahead of Friday's release of the new single from The Jasmine Minks have, we are offering you a sneak peak (well, listen) to these first two tracks from the Scottish stalwarts in a long time. Their new 7" single is a double A-side, comprised of tracks 'Step by Step' and 'Gravity', which offer a pull and attraction as strong as their material ever did during their heyday 30 years ago.
The first track is an upbeat and uptempo jingle-jangle harmony with a '60s chorus (written by Tom Reid) while 'Gravity' comes as a fuzzier anthem reminiscent of 'Cut Me Deep'. Here we see fantastic songwriting courtesy of Wattie Duncan.
Coming via A Turntable Friend Records, both digitally and on blue vinyl in cardboard sleeve, this new offering will go down well with fans of Jazz Butcher, Teenage Fanclub, Buzzcocks, The House Of Love, Beach Boys and The Charlatans. The Jasmine Minks' new material says loud and clear that they are still here among the great Scottish underground bands. Immortalized by their role in building the legendary Creation Records, they sound as if they never missed a beat, but they do leave you wanting more sooner than later. Come on guys, give us a full album, yeah?
The Jasmine Minks formed in 1983 in Aberdeen and became the first band to be signed to Alan McGee's fledging Creation Records label back in 1984, even ahead of friends Primal Scream. Many classic songs, singles and albums followed. Many cite their tracks 'Think!' or 'Cold Heart' among the best songs released during Creation's early phase.
Today they have nearly the same line-up as on the very first recordings: Jim Shepherd, Martin Keena,* Walter 'Wattie' Duncan*, Tom Reid and former Television Personalities keyboardist Dave Musker. This enthusiastic lot recorded their new material with legendary producer Pat Collier at his Perry Vale Studios in London.
Manic Street Preachers number among their fans. In fact, they took their name from The Jasmine Minks' debut album 1234567 All Good Preachers Go To Heaven). Indeed, they also struck a chord with legendary John Peel.
The band's original line-up reformed in 2011 for gigs and a new song, which was also included on the Cherry Red career-spanning 2-disc compilation Cut Me Deep: The Anthology 1984-2014.
With distribution worldwide by SRD Southern Record Distributors (London, UK), this limited edition 7" is available, as of Friday, on blue vinyl in a cardboard sleeve (with download code) Of course, it's also obtainable digitally via Bandcamp and Limited Run HERE
With this new release under their belt, on March 23, The Jasmine Minks will support The Claim for their album release concert at London's 100 Club. DJ Vic Templar will also be performing that night. On April 20, they perform a headline show at The Islington in London with Freya Beer supporting. Tickets are now available for pre-order for both the 100 Club and The Islington shows.
TRACK LIST
1) Step by Step
2) Gravity
LIVE DATES
23rd March – 100 Club, London as special guests of The Claim
20th April – The Islington, London
25th Oct – 13th Note, Glasgow
26th Oct – Krakatoa, Aberdeen
Check out the new busker-inspired video for the title track 'Step by Step'
If you liked their new output, you're also likely to appreciate their earlier works:
JASMINE MINKS
Facebook
Bandcamp
Vinyl Order
Twitter
AllMusic
Spotify
iTunes