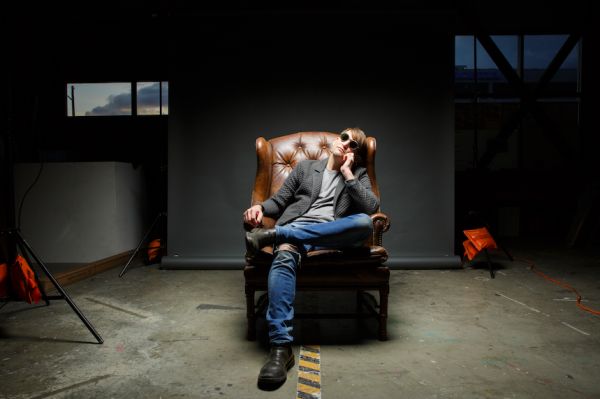 21 July 2020
Jalal Andre of Glorybots – Photo courtesy of Jalal Andre
Terrestrial-bound sonic astronaut Jalal Andre is the musician behind Glorybots' sci-fi pop melodics and cosmic rock riffs. The Seattle-based singer-songwriter and multi-instrumentalist has been dismantling and reconfiguring a legion of sounds for well over 20 years, spending a good deal of that time with Washington State indie rockers Echo Texture.
As Glorybots, Andre continues to mine the brisk riffs and emotionally driven lyricism of his previous band, but he also now explores stranger and darker avenues of melodic abstraction.Andre breaks free from the confines of traditional rock arrangements, allowing him to focus more on complex thematic development and the various arts of experimental composition.
The self-released second album from Glorybots, Invisible, will materialize on July 31st. It follows up debut LP Dark Alien Pop from 2018.
Andre and the band – which is often a ramshackle collection of friends and local musicians depending on where the band is playing – have fashioned an unusual and totally mesmerizing sound and mood that seems to be beamed in someplace way out past the binary mechanisms of Alpha Eridani.
Big Takeover is thrilled to host the premiere of "Suicide Hotline," a relevant and poignant single about never giving up hope – and your life – in the face of adversity. Glorybots provides an outlet for both Andre and his listeners to share in their personal difficulties, while also finding a way to overcome these seemingly insurmountable obstacles.
The track highlights Andre's innate awareness of melodic structure and the way it plays into the fabric of our emotions. The song captivates from the start, slowly pulling the listener along with its gentle stream of guitar chime and Andre's inviting and clarion vocals.
The build-up progresses with the layered addition of bright, but pressing synths, a sharp rock guitar edge, supple low-end bass line, and vigorous drum beat. Andre emotes with hopeful uplift through the track, intensifying to a keening lilt that soars along with the, yes, gloriously ascendant instrumental rush.
"Suicide Hotline" is life-affirming – vocally/emotively, lyrically, and sonically and so ear-catching it will remain spinning in your mind long after the song stops.
A heartfelt Andre reveals the personal details behind "Suicide Hotline," saying, "This song was written in direct response to a family friend who lost their son to suicide. It is a plea to all who are suffering to reach out for help and to reconsider committing any irreversible act such as suicide. If this song touches even one person, then the song will have served its purpose."
Resources: National Suicide Prevention Lifeline – Call: #1-800-273-8255.
"Suicide Hotline" LYRICS:
Little more could let you down
You wait for the break
Walls across your eyes
Falling 'til you wake
You know it's suicide
Hold on any way you can
Your worlds collide
Hold on any way you can
Every time they let you down
You find your heart feels the shame
You know it's suicide
Hold on any way you can
Or it's over
Never let them bring you down
Life gets colder
Never let them tear you down
All they do is take and then their gone
While your heart is breaking just hang on
Hold on to your prayers or then it's over
Hold on any way because it's…
…suicide
Hold on any way you can
Your worlds collide
Hold on any way you can
Every time they let you down
You find your heart feels the shame
You know it's suicide
Hold on any way you can
Or it's over
Never let them bring you down
Life gets colder
Never let them tear you down
All they do is take and then their gone
While your heart is raging just hang on
Hold on to your prayers or then it's over
Hold on any way because it's…
… suicide
Hold on any way you can
Your worlds collide
Hold on any way you can
It's suicide
Hold on any way you can
Your worlds collide
Hold on any way you can
Little left to let you down
You wait for the break
Walls across your eyes
Fall until you wake
CREDITS:
Song and lyrics: Jalal Andre
Guitars, keyboards, and vocals: Jalal Andre
Bass guitar: Ian Sides
Drums: Ben Hilzinger
Bandcamp
Facebook
Instagram
Twitter
Website