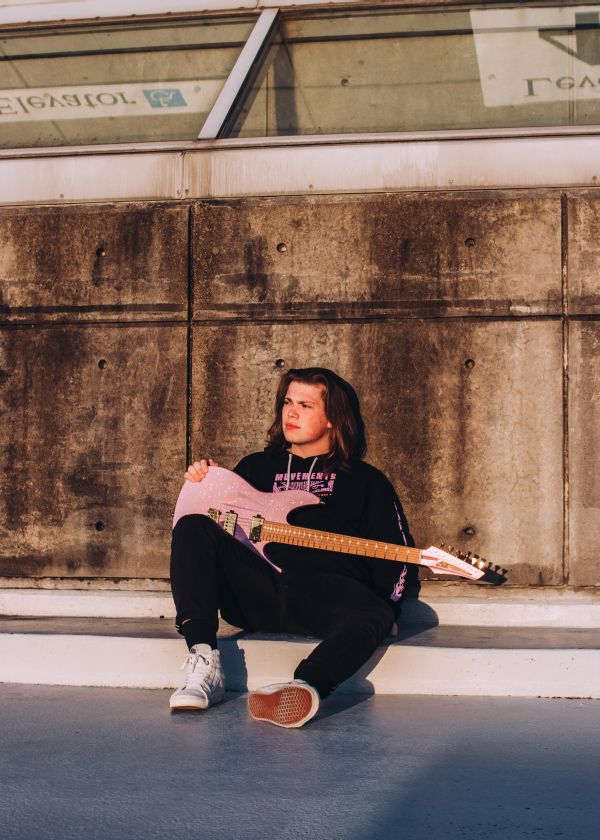 15 September 2021
Sometime In February Photo Credit: Em Pearson
Sometime in February is an instrumental progressive rock project from South Carolina-based guitarist Tristan Auman (The Unapologetic Kind, ex- Aim High). This solo venture has been a long time coming for the 22-year-old who has played throughout the southeast U.S. with multiple bands through the years.
Auman's debut EP as Sometime In February, Here Goes, comes out October 15th via Friend Club Records.
The EP was recorded in January 2020 at Rosewood Records in Columbia, SC, engineered by Nathan Crane and Robert Wilkinson, and mixed and mastered by Nathan Hussey.
Auman comments, "For years it's been my intention to release solo material. Even the title Here Goes is a reference to me finally going ahead and doing it. I've started and stopped numerous times, my tastes and styles would change, not really knowing what I wanted out of it, or what my voice was. I went through phases of progressive metal, Midwest emo, post-rock, and everything in between. And now I feel like I've found my combo. From the music I was able to write and the people I've come to know that helped me bring it to life over the past year, I like to think I've found that voice with this EP. Even though it is instrumental."
"Sure Thing" is the featured single off the EP, and Big Takeover is pleased to host its premiere today.
The song showcases the band's ability to marry the melodies of pop-punk with a metallic edge in a way rarely done in the post-rock world. Calmer swaying passages burst out into fiery, yet expansive tracts of freewheeling guitar and thundering drums interplay – always moving forward towards a bright future. Fans of Russian Circles and By The End Of Tonight are going to have a new favorite here!
Auman reveals, ""'Sure Thing" was the result of me attempting to write a simple song. Something that didn't take itself too seriously; no unnecessary tangents or three minute interludes. There's enough of that on the rest of the EP! What I came up with was something that felt carefree and fun, yet still maintained the same character and integrity as the other tracks."