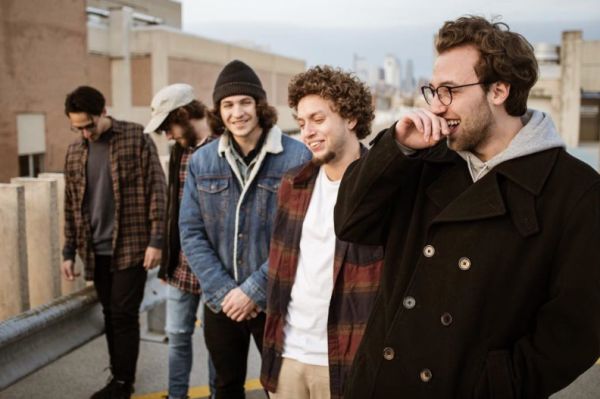 17 May 2019
twentythreenineteen – Photo Credit: Connor Rothstein
Philadelphia-based twentythreenineteen are a fast-growing indie rock band that isn't afraid to explore and reshape the boundaries of rock music within their changeable songs. Reflective to explosive post-rock, math-rock, pop hooks, and enveloping electronica are all in their wheelhouse. They also are cool with keeping it (relatively) simple and direct.
twentythreeninteen are prepping to release a new album on June 21st via Know Hope Records. The tracks on the self-titled record (in Roman numerals) were started by multi-instrumentalist Sean McCall (vocals, guitar, keys) after his previous projects didn't come to fruition. McCall is joined by Dylan Walker (guitar, vocals), Kyle Lloyd (guitar, vocals), Nick Moretti (bass), and Wave Deaner (drums).
Tension, uncertainty, and (mis)communication are all feelings and themes that run through the LP, based on the balancing act needed to pursue various endeavors simultaneously. The Big Takeover is stoked to be hosting the premiere of "Tangled", the second single from the album.
Cut from the spare, but clear and purposeful cloth of a certain direct type of '90s indie rock, "Tangled" pushes forward with interweaving vocal harmonies, stop 'n' start guitar and bass lines, and a crisp drum beat. The track is catchy, and even upbeat at times, but lets loose at the end with a tangle of guitars and emphatic drum-work.
Sean McCall explains the meaning of the song's lyrics, revealing, ""Tangled" is about the ups and downs of love and relationships. You can have the best highs of your life in love and you can also feel your lowest of lows, and this song portrays that even at the lows, the highs are always worth it."
Pre-Order twentythreenineteen's self-titled debut album at Know Hope Records
and at twentythreenineteen's Bandcamp
Website
Facebook
Twitter
Instagram