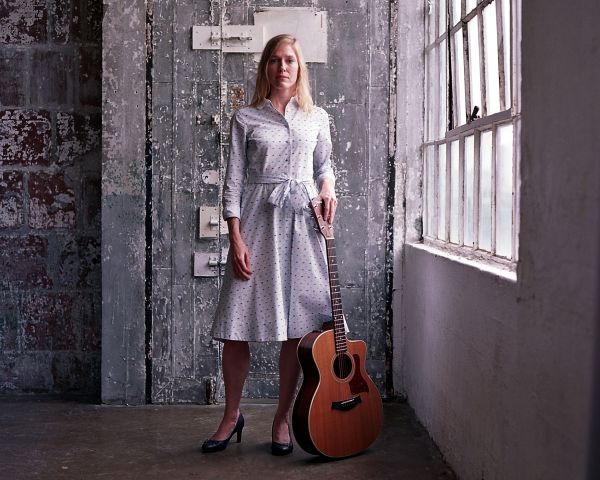 4 October 2021
Linda Draper – Photo Credit: Jeff Um
Acclaimed Brooklyn-based musician Linda Draper is celebrating her 20-year songwriting career with a new album, Patience and Lipstick, which arrives January 21st of 2022 via South Forty Records.
The LP's overall theme sprang from a post-gig conversation with a pair of married fans. Draper asked them what the secret was to a long and happy marriage, and Ivana, the wife who works long hours as a flight attendant, replied, "Jack is very patient, [and] I always carry a tube of lipstick in my purse. No matter how late it is, as soon as I turn the corner towards home, I reapply!"
And so the full length was titled Patience and Lipstick. The songs came naturally for Draper, who also took the fortuitous phrase another way: Of being willing to wait for things to get better and being ready to shine when they do.
For Draper, the road to this record has been long, and not just because she has paid so many dues on the NYC songwriter scene, starting with her debut album Ricochet twenty years ago.
While Patience and Lipstick leans more country than any previous Draper album, anyone who may try to push her into the gentile, soon-to-be-North Carolinian corner, needs to know that the vulnerability in Draper's songs is matched with the strength and attitude of a New Yorker.
Draper faced down and blew away many an audience at the Lower East Side's songwriter testing ground Sidewalk Cafe (RIP) in the early years, and her first four albums were produced by noted iconoclast, Kramer (currently seeing his own resurgence with the re-boot of his groundbreaking record label Shimmy Disc).
Big Takeover is pleased to host the premiere of the tuneful "Tether," the first single from Patience and Lipstick.
At its core, "Tether" is a protest song. Draper wrote the song just as the pandemic was shutting down the city. It is a message of passion, blunt truth, and Draper's personal reality, and it calls for patience.
The lyrics from "Tether" are a perfect example of Draper's special way of twisting a dark tune, tinged with the appropriate cynicism, into a sing-along.
She sings:
Talk is cheap still they keep speaking in their crooked tongues
Trying to sell me the idea we're all in this together
I beg to differ… I beg to differ
We were never all in this together
There is no tether nor was there ever
Draper unveils more details about the creation of "Tether," revealing, "I wrote this song during lockdown at the beginning of the pandemic. I was amazed and disgusted with how, literally overnight, every TV commercial, news outlet, and talk show was suddenly barraging us with these insincere and overly sentimental messages about how we are all in this together. If there is anything that maybe everyone can all agree on these days, it is that we are NOT all in this together. We have never been more divided and distrustful. Those cozy little bubbles that we got ourselves stuck in just keep on popping. Now it's time to face the music."
Live:
11/06/2021: Brooklyn, NY at Pete's Candy Store (709 Lorimer St., w/ Atoosa Grey)
Socials:
Website
Facebook
Instagram
YouTube
South Forty Records Website
LISTEN:
Spotify
Apple Music