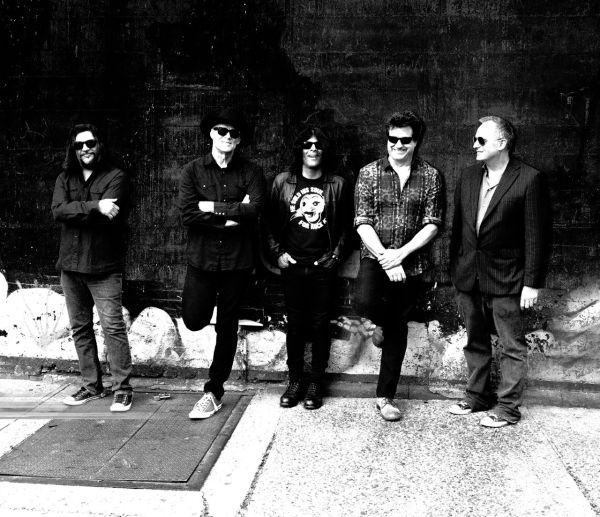 10 April 2020
Dramarama – Photo Credit: Amy Martin
Iconic New Jersey-based alternative rock quintet Dramarama will be releasing their first full-length album in 15 years, Color TV, on May 1st via Pasadena Records.
Their 7th studio LP is steeped in themes of truth, love, and addiction and is rooted in distorted grit, vibrant punk energy, and American songbook eloquence that the band is known for.
John Easdale (singer, songwriter), Mark Englert (lead, rhythm guitar), Peter Wood (lead, rhythm guitar), Mike Davis (bass), and Tony Snow (drums) not only preserve, but strengthen the spirit that established them as a history-making force in 1982.
Long before the '90s alt-rock boom, radio embraced the group's single "Anything, Anything (I'll Give You)" as the de facto national anthem of the nascent alternative nation. It notably made history as one of the most-requested songs of all-time on KROQ 106.7 FM in Los Angeles. It could also be heard loud and clear everywhere from A Nightmare on Elm Street 4: The Dream Master to HBO's Entourage.
On the heels of debut album Cinéma Vérité's success, the band delivered a decade of fan-favorite albums: Box Office Bomb (1987), Stuck in Wonderamaland (1989), Vinyl (1991), and Hi-Fi Sci-Fi (1993), and after a lengthy hiatus served up Everybody Dies in 2005. As their legacy solidified, critical acclaim followed.
Over the past decade, in intermittent recording sessions, the band assembled what is now Color TV, a record that is both classic and cutting-edge.
Big Takeover is highly excited to host the reflective and flowing track "The Cassette" that glows with brighter piano notes, cycling bass line, gentle guitar chime, a measured drum beat, and Easdale's softly ruminative vocals. His nostalgic vocal tone imbues the the tune with a gentle regret as he contemplates a past friendship, sighing wistfully, "I miss you." Easdale's longing emotions extend through the song, imbuing it with a dreamy ambience.
Easdale explains what inspired the song, revealing, "I wrote "The Cassette" during an unimaginably painful time. In the course of just a few weeks I'd lost my best friend, Greg, and then my mom. I was reeling. My despair collided with opportunities for Dramarama — a VH1 special and a really large festival — and I was struggling to justify these career prospects with my overwhelming sadness. Somewhere in the process, while thinking about my friend, I started writing down everything that crept into my head; nothing intentional, just mindlessly scrawling. These thoughts became the verses. What may seem random is a tribute to someone I love and still miss every day."
"There is often something, whether obscure or pretty obvious — an object, a place, a scent — that instantly, intrinsically, reminds me of people I hold close. In Greg's case, it's a cassette. He was the master of the mix tape, his cases adorned with colorful scribbles and even more colorful titles. There must be hundreds of them."
""The Cassette" is the first song I wrote after Greg died. After recording basic tracks with the band and producer Jeff Greenberg at The Village in Los Angeles, I sent the song to NJ-based pianist, Billy Siegel, who added a haunting riff that, on first listen, brought me to tears."
Pre-order Color TV HERE
Website
Instagram
Twitter
Facebook