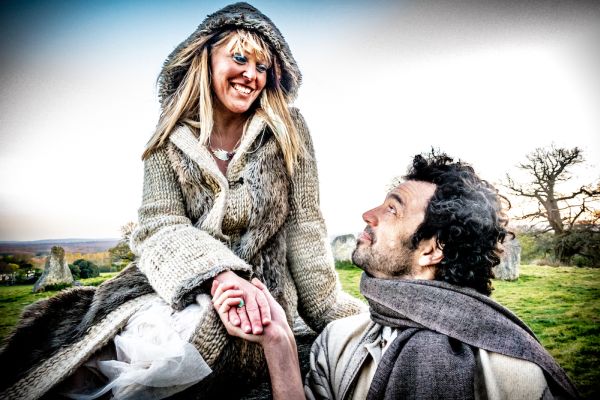 28 September 2021
Shrinari – Photo Credit: Jethro Tanner
Today we are pleased to present you with an act that emantes an engaging sound that is not often heard – it is that soft sound of spring embedded into a human voice. Genre-wise, we could depict this sound as soft-spoken pop meets a purifying Irish spring. Not sure if that makes the analogy any closer to you, so we recommend you just have a solid listen from start to finish for yourself. Bonus: you even get to follow this track up with a cool homegrown organic earthy video for yet another track from their forthcoming album.
So who are we talking about? Shrinari is a UK-Spanish wife-husband duo – Lucidia Omamori and Rafael Marchante Angulo – who have been making a name for themselves on the indie folk / spiritual and reflective music circuit in the UK over the past few years, in addition to touring internationally. Today they reach these shores of the Atlantic with their new single 'The Gift', a sweet taster of their debut album 'Hold On To The Hope, Though', slated for release later in autumn.
London-based indie-folk-pop duo Shrinari channel music with a strong spiritual component, weaving musical tapestries with harp, guitar and vocals, drawing you in with frequencies and tones that seemingly connect with our organs and cells. This music carries a message of hope, unity and connection to Mother Earth and to each other as inhabitants of this planet. They are here to ameliorate our time on this planet, as spiritual beings having a human experience.
With 'The Gift', Shrinari continue their transcendent adventure in consciousness and celebration of love and life through a beautiful marriage of sound with song. Music and mindfulness have always been linked but, during the Covid-19 pandemic, awareness of this connection seems to have been grown. So many questions emerged among millions of people across the globe, whose entire way of life had to suddenly change, leading to questions about what, after all, is important in our lives.
Although they can already be considered seasoned artists, Shrinari is among a new kind of artist – the kind who are music visionaries. Their vision? A healthier world. You could say they are, through their music, practitioners of the healing arts. While Omamori has a vocal timbre similar to Madonna with her most wholesome vocal delivery, this music is in quite a different element. Like Erykah Badu, who has been said to create "new age ancient futuristic medicine music", Shrinari is on a similar mission – don't be surprised if their music brings you some peace of mind, bringing you closer to some kind of equilibrium, even if only for a few moments.
"This song was born after a local walk, in which we discovered a hollow oak that had been used as a litter bin and set on fire. It's a contemplation about what was lacking in people's lives that they would feel such an absence of connection to the natural environment that they would treat it with such disregard. My intention was to inspire the awareness of the need to respect and protect our Earth Mother and all living beings," says Lucidia Omamori.
You could call this music genre fluid, sacred indie pop or spirit soul. You could call it high frequency or eclectic medicine music, Celtic or world folk. One thing is for sure – the collection of songs on their coming long-player 'Hold on to the Hope Though' intertwine the personal and the collective, giving voice to the challenges we are facing in these changing times. Always delivered with Shrinari's sense of optimism and hope filled wonder, their music reflects the point of no return that we are living through historically, together with the timeless themes of human existence and evolution.
"This moment in time feels like a crucial point. We're in the middle of a bridge we're crossing between what we have been and what we will become. This album is a bridge as well between many aspects: the personal and the collective, the ancestral and the contemporary, the magical and the mundane, logic and intuition, fear and trust, etc," says Rafael Marchante Angulo.
"These lyrics depict personal and profound moments of exploration and discovery in my inner and outer journey, articulating my process of understanding my inner conflicts, integrating the effect of witnessing and contributing to the destruction of this planet we have been gifted. This is a reminder to ourselves and others to hold on to the hope, to perceive and to experience beauty where it still dwells, and to take action to shift the balance in a positive direction for the future generations. A reminder to honour all the teachings we have received along the way on our diverse path of spiritual searching, philosophical understanding and to show up with deep conviction to love this planet and preserve the beauty for all life as a result of clarity I have received in moments of realisation," says Lucidia Omamori.
As of October 13, 'The Gift' will be available across online stores. The full album 'Hold Onto The Hope, Though' will be released in November. A percentage of profits from this album and all of the duo's music goes to support projects to protect the earth and indigenous people living in accordance with nature. It can be pre-ordered at Bandcamp, where the single and 'Desert Path' will be offered as an instant grat download upon purchase.
ALBUM CREDITS
All lyrics written by Lucidia Omamori
Music written by Lucidia Omamori and Rafael Marchante Angulo
Melody to 'Standing Rock' co-written by Heren Wolf and Basma Jabbar
Cello for 'New Light' and 'The Gift' recorded by Asha McCarthy.
Viola for 'The Gift' recorded by Jocelyn Pook
All horns recorded by Idris Rahman
All songs produced, recorded and mixed by Rafael Marchante Angulo and co-produced by Lucidia Omamori
Vocals, guitar, cello and violin for 'Soul Calling' recorded at Iguana Studios by Jagannatha Suta
Mastered by Andy Hippy at Metropolis Studios in London
Photography and single covers by Jethro Tanner
Album cover by Vessi Ves Photography featuring artwork of Nick Mindscapes
'The Gift' cover photograph by Kai Ohio
Link to "The Gift":
Also enjoy 'Desert Path', another song that will appear on their forthcoming album
Shrinari
Website
Facebook
Twitter
Instagram
SoundCloud
YouTube
Spotify
Bandcamp
Apple Music