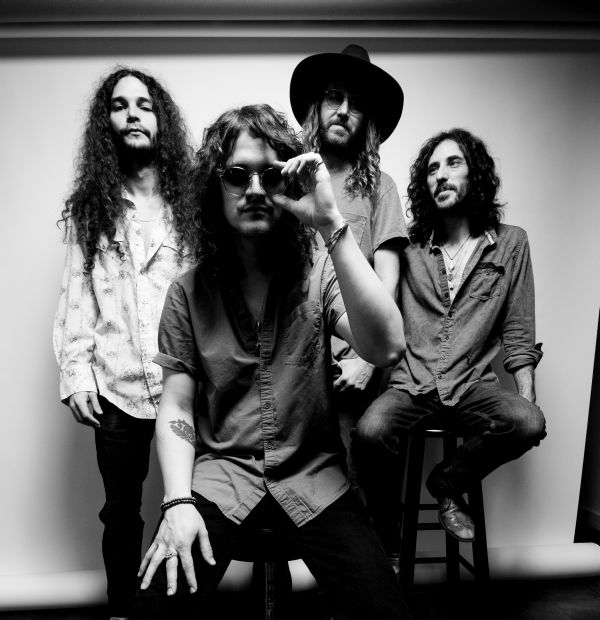 26 July 2021
The Roomsounds – Photo Credit: Will von Bolton
Having drawn comparisons to Tom Petty & the Heartbreakers, Oasis, Big Star, and even The Rolling Stones since their inception, The Roomsounds have made a name for themselves trafficking in timeless, no-frills rock 'n' roll.
The band now enters its second decade with a fresh slate and a batch of their most genre-melding songs to-date; upcoming album Good Company throbs and sizzles from the inside-out, as frontman Ryan Michael emerges as more confident and unapologetic than ever before.
"Waiting Out The Storm" — the engaging first single from the LP — is a prime example of what listeners can expect to hear on the Texas-based band's latest offering that's due on October 15th.
Big Takeover is pleased to host the premiere of the anthemic and tuneful "Waiting Out The Storm" today.
Melodic guitar lines shine throughout the Americana track, along with a smoothly running bass line, crisply hit drum chug, and mellowly sung vocals.
"This is one of my favorite 'songwriter moments' on the album where I feel like we're firing on all cylinders," says Michael. "We've got the jangly 12 string guitars, a la Petty, Beatles, Big Star, and lots of harmony. It has that nostalgic 'coming of age' feel that's often so hard to get right unless you're telling the truth."
"Lyrically, it's about the teenage angst and excitement of figuring life out. Experimenting with booze and learning how to interact with girls. The storyline is that we were a bunch of neighborhood kids that were hiding out in my best friend's basement during a big storm, and the power went out. We stole a bottle of his parents' wine (as one does) that was tucked all the way back in a cupboard…It had probably been there for years. We laughed and danced and played guitars and kissed girls. Fun fact: I went on to date that girl for many years after that."
With the help of producer/engineer John Pedigo at Audio Dallas, the veteran group – rounded out with musicians Nick Snyder (guitars), Red Coker (bass guitar), and Dan Malone (drums, percussion) – slides from Bill Withers silkiness, to the smart pop sensibilities of the British Invasion, and a Brian Wilson-stamped moodiness before smacking right into rootsier affairs. "I'm not worried about reinventing the wheel. We're making songs that we want to hear," says Michael.
A decade of rock under their belts leads to this moment. Good Company owes just as much to working with Pedigo for the first time, the Dallas mainstay known for his work with Old 97's, Joshua Ray Walker, and countless others.
"I feel sometimes there's only so much a producer can pull out of you. It was an awesome experience going to Pedigo. He's a little more punk rock," says Michael. "Having that sort of raw energy in the room is always fun and keeps you from second guessing yourself too much. It was less about perfection and more about the immediacy of getting the song down."
Good Company is sentimental, thought-provoking, and frequently a lot of damn fun. Five years since their last record, it's assuredly one of those leveling-up kind of projects that'll prove they haven't gone anywhere at all, and are right where they belong.
Website
Instagram
Facebook
Twitter