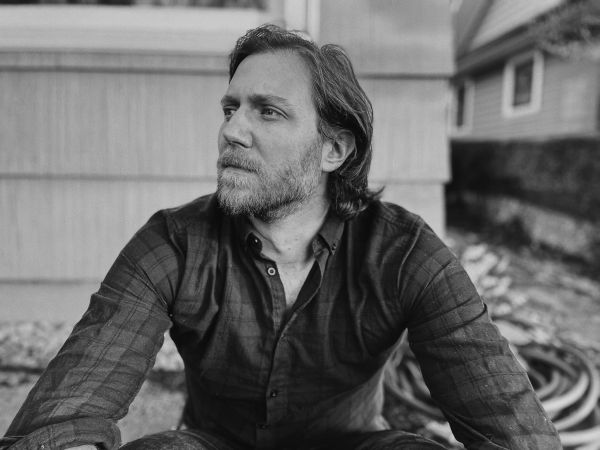 27 October 2021
Eddie Berman – Photo Credit: Joanna Berman
Portland-based folk artist Eddie Berman's latest single, "Water In The Barrel," is featured on Broken English, Berman's 11-Song suite of campfire-worthy, cosmic folk rock that comes out January 21st via Nettwerk Records.
Berman has cited writer and philosophe Annie Dillard's "patient and deliberate thoughts on nature" as a source of inspiration for his new album 'Broken English, so it may come as no surprise that his new single, "Water In The Barrel," was also inspired by a prominent 20th century professor and philosopher Alan Watts.
"The title of the song "Water in the Barrel" came from an Alan Watts lecture I was listening to while biking around Portland," Berman recalls. "Watts was talking about the Zen expression 'no-mind,' describing the placid preparedness of ancient Japanese warriors. Around that time I was hiking with my older daughter, looking down at the fog covering southeast Portland, and I imagined us living on the lam after the calm around us broke. So, to me, the song is about a father and a daughter steeped in all that menace and confusion and love when the stillness shatters around them, and then seeing what happens to the stillness inside them."
Big Takeover is pleased to host the premiere of "Water In The Barrel" today, which follows the release of the album's title track that Glide Magazine called "delicate but commanding," bringing to mind "the folksier studio recordings of the Grateful Dead."
"Water In The Barrel" is an appealing storyteller that runs on lightly cycling Western guitar line, wandering horns, plucky keyboard notes, a quickly shifting drum beat, and Berman's reflective, yet sinuous vocal delivery.
"When I wrote the song 'Broken English,' I was thinking about how especially isolated, rootless, and untethered people had become, and that was back in 2019, a good six months before anyone had heard the term Covid," Berman explained. "The past year and a half have put those feelings in hyperdrive."
Berman made his debut with the EP Blood & Rust,' featuring his duet of "Dancing in the Dark" with British folk icon Laura Marling. His subsequent release generated tens of millions of streams, placements on major Spotify playlists like Your Favorite Coffeehouse, Acoustic Covers, and The Pulse of Americana, and nationwide tours with Laura Marling, Tyler Childers, Passenger, and Lee Ann Womack.
Berman had planned to record the album like his previous LPs at the LA studio of his longtime collaborator Pierre De Reeder (Mavis Staples, M. Ward), but that went out the window with the global lockdown. So he learned how to make the album remotely with his bandmates, the multi-instrumentalist Gabe Feenberg and drummer Max MacVeety. Berman has two young daughters, and he describes the extra time with them as an utter blessing in an otherwise difficult year, as he and his wife found ways of using the situation to reclaim some semblances of lost autonomy.
It was in this pure family setting that Berman recorded, seeking out pockets of time when he could jump into the makeshift studio he'd set up in the nursery to track his instrumental parts and vocals. The result is a powerful, moving, and at-times haunting time capsule of these trying times, written primarily on banjo but performed on guitar. Despite the initial difficulty of adapting to a new approach, Berman grew to value the remote style, which afforded everyone involved a bit more time to focus on their individual contributions. "We only had a few takes of quiet for each track," Berman recalls. "That pressure and restriction strangely give these songs a live feel that's similar to our previous recordings."
Broken English is at times quite dark, like the track "Cherokee Rose," a gentle steel-guitar epic that was partly inspired by the intense Cormac McCarthy novel Blood Meridian. But despite the heavy subject matter, the album is an optimistic one just as well. After all, when you're a parent, you don't really have any other choice: "Just having a kid nowadays, you need to have some sense of hope," he says. "These songs are about living with these issues and looking for a way through them."
Berman explains that Anne Dillard's "patient and deliberate thoughts on nature" was a source of inspiration on the new album, helping him to focus on the day-to-day—on not getting bogged down with the mess of the world that we can't control. "It's a little bit like, are you some flightless bird that's evolved out of the ability to use your wings, and now you're just kind of looking up at the sky, thinking, well, I can't do that anymore?" he puts it. "Or is it something like a circle that's been broken, and it's your responsibility to mend it?"
Berman will tour in support of Broken English this winter, including a performance at the Portland Folk Festival in January. For details and more information, visit Berman's official Website