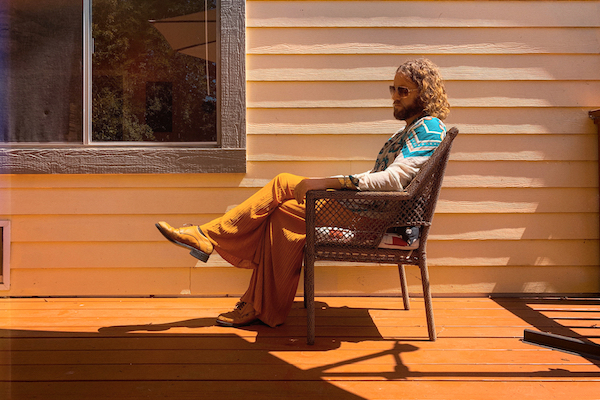 21 February 2022
Woolfy – Photo Credit: John Alderson
Primarily known for his electronic dance music, Woolfy is back with another heartfelt, gentle, toned down indie-rock release with the double-singles "When We Were Kings" and "Heroine." Inspired by Woolfy's longtime hero, David Bowie, "When We Were Kings" pays tribute to Bowie's gender non-conformity in the 1970s-80s, an enduring inspiration for Woolfy (Simon James). Over gentle arrangements, delicate guitar, Woolfy croons about his late hero in a way that would make Bowie proud:
When they first found out
You were trouble for hire
With a crown on your head
To lead you into the fire
And the milkman's clothes
Became the talk of the town
They were positively clear
That you were poverty and queer
"Heroine" continues the more vulnerable, toned down pattern, backed by a folksy guitar, toy piano and a soft drum, as Woolfy recounts a brief dalliance with the song's namesake and the escape she provided in exchange for a life owed. Together, the double singles expand Woolfy's repertoire and prove that the artist is capable of not just covering many genres, but excels. These two singles have us excited for all that's to come for Woolfy.
The artist spoke exclusively with the Big Takeover recently and had this to say about his love for Bowie and goal with "When We Were Kings":
"When I was growing up in a village in Surrey, UK, Bowie's album Hunky Dory never left our record player," Woolfy said. "Since then, I've always associated my memories of small-town England, milkmen 'n' all, with David's songwriting, particularly on that album."
He continued: "The intention in 'When We Were Kings' was to capture that feeling. Lyrically, the song reflects a period later in my life where I found my closest companions to be West Hollywood street boys, drag queens and the other fantastic walks of life that society had cast away. So many adventures … wild times, to say the least. And Bowie was still playing on the radio. The song closes with disbelief that he's gone. 'I wrote this for you, Superman. I certainly would never try to fill your shoes, but would you mind if tried them on for the day?' Oh what a day."
Now residing in Ojai, California, Woolfy's latest releases finds him one foot still on the dancefloor, the other in a more personal space and turning towards traditional songwriting. His last EP, Shooting Stars, released in December 2021, saw Woolfy hailed as a rising indie-pop star, as he began his venture into the indie-rock arena, and set the foundation for his upcoming releases.
Prior to this release, Woolfy's track record is impressive and extensive. Woolfy's earliest outings were on Rong Music starting in 2005, before being signed to James Murphy's legendary indie dance stable, DFA, for two more EPs and a 2009 long-player. This period yielded successes such as the perennial favorite "Odyssey," the lovelorn "Looking Glass" and "Oh Missy," which drew a comparison to late-'70s pop-disco Stones. Meanwhile, a series of full-length albums and singles as one half of Woolfy vs Projections (now simply Projections) on Permanent Vacation have seen him firmly cemented as a leading voice in both the modern disco and Balearic "revivals."
Recent collaborations such as with Lexx on summer digi-reggae jam "Too Hot" (Phantom Island, 2019) and the Coyote on the Return to Life EP (Is It Balearic, 2021) continue the trend. Whereas Projections' style fuses AOR, cosmic funk, synth-pop and after-hours house music, Woolfy's solo material tends to draw on the influence of the classic pop, indie-rock, shoegaze and New Wave that soundtracked James' musical coming of age in the '80s.
The double singles are out Friday, and "When We Were Kings" is earmarked for a special limited 7-inch vinyl release later this year. Check out the Big Takeover's exclusive premieres of both songs today.
Listen to "When We Were Kings" here:
Listen to "Heroine" here:
For more on Woolfy, go here:
Facebook
Instagram
Bandcamp
SoundCloud