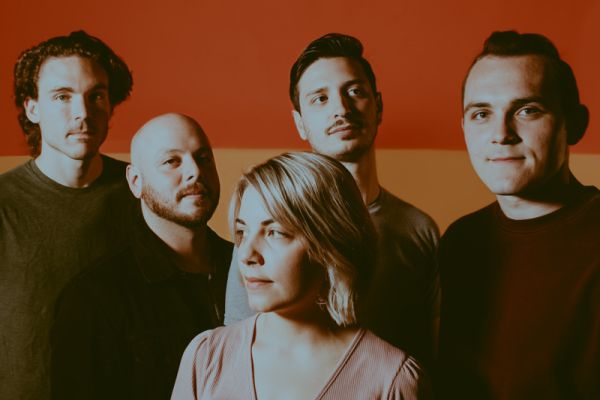 3 October 2019
The Cordial Sins – Photo courtesy of The Cordial Sins
Ohio-based alt-rock/dream-pop band The Cordial Sins are drawing fervent attention for their delectable meld of alternative, shoegaze, and pop music. Their upcoming EP, In Memory, arrives on October 25th via Diversion Records.
The Cordial Sins recently completed their first U.S. tour in support of Elvis Depressedly. The group's electrifying performances have also been showcased on stages shared with the illustrious likes of The Breeders, Foals, The Flaming Lips, Twin Peaks, Wolf Alice, and more.
Frontwoman Liz Fisher's classical training in violin offers intriguing context for her intensely rock vocal delivery, while band co-founder Corey Dickerson grounds the sound with driving guitar lines. The Cordial Sins is rounded out by Kyle Edwards (guitar), John Allen (bass), and Michael Ortiz (drums).
The Big Takeover is mighty pleased to host the premiere of indie rocker "You Are A Weight", the second single off of In Memory. It follows lead single "Cruel", which came out early last month.
"You Are A Weight" officially releases on October 4th, but you can stream the propulsive cut right here. It dashes by with buzzing guitar fuzz, a chugging bass line, choppy cymbal crash, extended synths pull, and a hard-charging drum beat.
Through the thick sonic melee Fisher's dusky, yet direct vocals push forward with determination. She aiming to get past any turmoil headed her way and throw off the negative influences in her life in whatever form they take.
Fisher delves into the meaning behind the track, revealing, ""You Are A Weight" is my recognition that people often place emotional burdens on one another. Sometimes, it seems like we project our own insecurities onto other people as a way to avoid taking responsibility for ourselves. "You Are A Weight" is a response to someone who tried to make me feel like their problems were always my fault; an acknowledgement that I don't have to be responsible for someone else's happiness."
Pre-Save "You Are A Weight"
The Cordial Sins
Website
Facebook
Twitter
Instagram
Bandcamp
Spotify
iTunes
Diversion Records
Website
Facebook
Instagram
Twitter